Glasses 101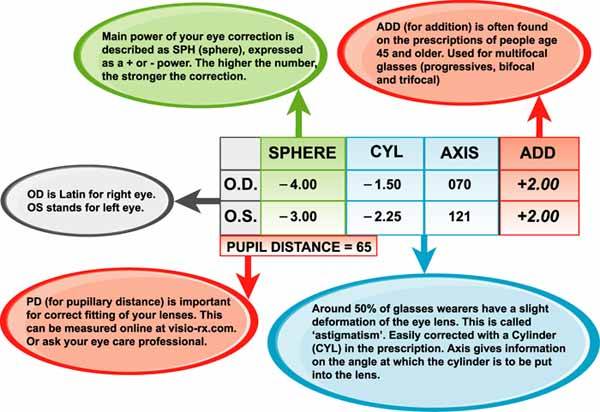 Click on the image to view an explanation of each field on your prescription.
Beginner's Guide to Buying Glasses Online
For ages now you've been squinting and straining to see clearly while you're driving. Or maybe you have to hold your favorite newspaper further and further away in order to make the print come into proper focus. You have finally made the decision to buy glasses, but where do you start? Here's a beginner's guide with all the basics to help you on your way to buying the perfect pair of glasses..
Getting Your Glasses Prescription
First of all, you have to go see your doctor or optometrist to get your eyes checked. Here they will do tests to determine whether you are nearsighted (myopic) or farsighted (hyperopic). When you're done, the doctor will hand you your prescription. Make sure to ask your doctor to measure the distance between your pupils (PD). This measurement ensures that the optical center of your glasses will be directly in front of your pupils. If your doctor writes your PD as two separate numbers, just add them. If you already have a prescription that does not include the PD, you can measure your PD in just a few simple steps with our Virtual Mirror.
Understanding Your Prescription
Once you get your prescription, it may look a little something like this:

What do all these terms and numbers mean? Let's start with the abbreviations.
OD

Latin for "Oculus Dexter," meaning "right eye." Everything in this row corresponds to your right eye.

OS

Latin for "Oculus Sinister," meaning "left eye." Everything in this row corresponds to your left eye.

SPH

Amount of lens power needed to correct your vision, measured in dioptres. This number always has a + or a - in front of it, to identify whether a plus or a minus lens will be used.

CYL

Amount of lens power needed to correct astigmatism, also measured in dioptres. If a number is present here, it is always accompanied by a number in the AXIS category.

AXIS

Measured in degrees. This number is needed to correctly position the lens into your chosen frame, in order to properly correct astigmatism.

ADD

Refers to the amount of power needed in the reading portion (or near vision zone) of a multifocal glass (bifocal, trifocal, or progressives) in order to treat presbyopia. Also measured in dioptres.

PRISM

_

Amount of prismatic power needed to correct eye alignment problems. Measured in prism dioptres. If a number is present in this category, it is always accompanied by a value in the BASE category.

BASE

Refers to the direction of the above mentioned prism. Can be expressed as "base up" (BU), "base down" (BD), "base in" (BI), or "base out" (BO).

PD

Abbreviation for "pupillary distance." Measured in millimeters. Generally speaking, this number can fall anywhere from 40 to 80.
What do all these terms and numbers mean? Let's start with the abbreviations.
Having explained the abbreviations, let's translate the prescription into words. This person needs -1.25 dioptre to correct for nearsightedness, needs -2.00 dioptre correction for astigmatism at an axis of 90 degrees and has an added power for reading of +2.00 dioptres in the right eye, in addition to a prism of .6 base up. In the left eye, the sphere is -1.75, with a cylinder of -0.75 at an axis of 160, and added reading power of +2.25.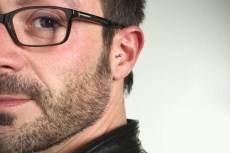 Choosing a frame that suits you perfectly is easy and fun with our Virtual Mirror.
After you get your prescription, it's time to figure out what kind of frames and lenses you would like for your prescription glasses. Of course, for the fashionistas out there, we also offer frames with plano lenses. Plano lenses are plain lenses without any corrective power.
Frames
Selecting a frame for glasses is probably the most exciting part of buying them. There are tons of options available to you when you combine factors such as color, size, material and decoration. What do you need your glasses for? If you will use them all day every day, choose a durable and lightweight material such as titanium. If you have very sensitive skin or suffer from skin allergies, you may want to select a frame made from hypoallergenic materials. For children, flexible materials such as memory metal and TR-90 are recommended to prolong the life of the glasses. If you're looking for a colorful pair of statement glasses, acetate frames are the way to go.
If you don't know what kind of glasses will look good on you, take a look at our articles about face shape and coloring. These two articles offers hints to help you narrow down the vast array of styles to just styles that will look good with your face shape. But, as with anything, there are no concrete formulas to determine what will or will not look good on you. The best way to judge such things are with our Virtual Mirror, where you can try on as many or as few pairs of glasses as you wish.
Lenses
You have heard the terms bifocal, trifocal and progressive lenses quite a bit now. But what exactly do these terms mean?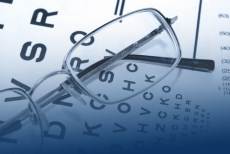 We'll help you narrow down your lens selection upon check out.
Bifocals are lenses with two zones; one for distance, and one for reading. The two zones are separated by a line in the glasses.


Trifocals have three zones in the lens: one for distances, one for intermediate vision (such as computer use) in the middle, and a zone for reading on the bottom. All three areas are separated by visible lines in the lens. Visio-Rx does not offer trifocal glasses.


Progressives are multifocal lenses that have no line separating the zones, eliminating the jump from one power to the next. This increases user adaptability and ease of wear. Aside from these two significant improvements, progressive lenses have a vain benefit as well: the lens looks like a single vision lens to anyone not wearing the glasses, thus "hiding" the fact that presbyopia is setting in. In previous generations, the only option available was the lined bifocal. Today, the progressive lens makes it possible to hide your reading glasses..
Modern technology is improving the quality of our lenses every day. Despite the name, most glasses are outfitted with hard plastic lenses of varying thickness these days. Selecting the appropriate lenses for your glasses can be overwhelming if you are unfamiliar with all the terms. To help you decide, here is a brief overview of several types of lenses.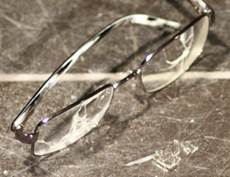 Shatter proof materials are strongly recommended for sports and children's use.
Xirm, Trivex and polycarbonate lenses are significantly more impact resistant, which makes them a great and safe choice for kid's glasses, sports wear and safety goggles.
Photochromic lenses change from clear inside to sunglasses outside. This special lens is UV activated and will save you the hassle of switching back and forth between your regular glasses and your sunglasses.
High index lenses are a great choice for people with stronger prescriptions. These materials will allow you to have thinner and lighter lenses in your frames, thus making your glasses more comfortable to wear.
Polarized sunglass lenses are ideal for people that are active outdoors. These lenses minimize glare from reflective surfaces such as water. They can even reduce the glare from the road in front of you, and from the hood of your car.
The type of lens you choose is completely dependent on your personal preference, although thinner and lighter lenses are much more comfortable for high prescriptions.
The Whole Package
Sight is one of the most important senses we have, and glasses are an important device in making sure you can see everything clearly. We strongly believe that you do not need to spend the big bucks at an optical store in order to get a high quality pair of glasses.
We've invested much thought, time and money into making sure that we will deliver you the same quality glasses as you would get from your optician. Give us a try, we won't disappoint you.