Shipping & Handling
Shopping online is convenient and affordable. But one of the downfalls of shopping from the comfort of your own home is the shipping costs. Have you ever been on the verge of ordering something, only to notice that the shipping and handling costs are absolutely outrageous? The same goes for a lot of those TV offers out there. You know the ones: "Buy now and get the second free! Just pay shipping and handling!" It sounds like a great deal, until you see that the shipping is almost as much as the product would have cost you to begin with...
The same story rings true for a lot of online glasses retailers. They advertise with low prices, but once you get to the payment page, you're hit with 3 separate shipping charges. So, even though the prices are cheap on the website, you're essentially paying a hidden price increase for each pair of glasses you order by the time you're through with your transaction.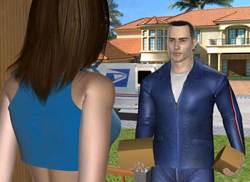 Your order will be delivered to your home by USPS.
We don't want to be grouped into this category of scandalous S&H price hiking. Nobody likes paying a shipping price of which they know that the amount is way above the actual cost of shipping the item.
To understand our shipping costs, you should know what our shipping procedure is. Our shipping is done in 2 steps: First, we ship every order to our office in Michigan. Second, orders are taken to the post office, and mailed from Michigan to each individual customer's shipping address.
At Visio-Rx, we don't want our shipping costs to double as a hidden price increase per frame. We only charge a set (low) amount of S&H per order. So, whether you order 1 pair or 10 pairs of glasses, the shipping cost stays the same. Hopefully, this serves as a great incentive for you to order more glasses without worrying about ending up with an out-of-control shipping bill!