Print Frames True to Size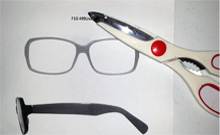 Print your frame out to check size if you're unsure of the fit.
Choosing the correct frame size for your new glasses is important if you want them to fit comfortably. We have taken every step necessary to help you find the correct size frame:
Search based on frame size (lens width, bridge size, temple length)
Try on frames that are resized in proportion to your face using the Virtual Mirror
Upload pictures using PerfectFit™ to allow us to pre-adjust your frame
Not convinced by these computer tools? No worries! We have created a printable PDF document for every single frame. You can download this document from the product details page and print it out at 100% true size. We've even built a check into the document so you can be certain that the frame is scaled to true size on your print out. Then simply cut out the frame and see if it fits your face.
Or place your current frame on the print-out and see how they compare. For frames with a fixed bridge (mainly acetate, TR-90 or plastic materials), pay special attention to the size of the bridge, to make sure it will sit well on your nose.

The link to the frame PDF and the print instructions are found on the frame details page.
If you're not sure how to set your print settings to print the document to scale, we've also created a document with print instructions. You can find the link to this right below the link to download the frame PDF.
Very few websites provide this service for their customers. We understand that sometimes, you just need physical proof that the frame is going to fit your face. For some people, all the online tools and gadgets in the world to ensure correct size can't provide the same comfort as having a print out of the frame in hand. We gladly provide these documents so you can shop with confidence.