PD Meter Rentals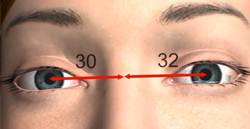 In the optical industry, the values for the right eye are always written first, so the monocular PD for this person would be written as 32/30.
We highly recommend that people who require multifocal lenses (such as progressives and bifocals) obtain a monocular PD value. Monocular PD is the distance of each pupil to the center of the nose bridge, and is written as 2 numbers. Having these values helps guarantee that the lenses will be placed correctly in the frame.
Whereas our online PD tool is very accurate for total PD, taking monocular values from a picture is a problem. The slightest change in angle of the head produces different values. As a better solution, we provide the option of PD meter rentals to our customers.
A PD meter is the tool used by eye doctors and opticians to accurately measure your PD.
Visio-Rx carries PD meters from Adnuo, a lens brand. It is a sturdy, accurate and simple to use tool with which measuring your PD can be done in half a minute. Your PD meter will come with easy to follow instructions (or you can click here to download them).
Your choice: rent or buy: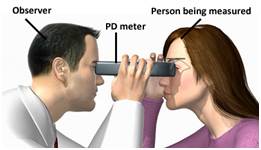 Whether you rent or buy, Adnuo® PD meters are guaranteed to give highly accurate results.
RENT: If you choose to rent, then the PD meter can be used for a full 2 day period, after which the PD meter is returned. Extra days are possible at $5 each. Rental costs $19.80 and includes outbound shipping. Return shipping is for your account (average of $8, package priority mail).
BUY: buying the PD meter will set you back $99.80 (shipping included). Then the tool is yours and can be used whenever and as often as you desire.
The PD meter allows PD measurement for all family members, relatives, friends, neighbors and colleagues. Just imagine how little the cost per person is and the excellent value this provides. Having your PD will set you entirely free from the expensive optical stores.
Renting expensive in relation to the price of your glasses from Visio-Rx? Maybe. But look at it like this:
Video: Find out why PD is so important in fitting your lenses properly.
How much would you pay for the same pair of progressive or bifocal glasses, when your optician measures your PD?
How much is it worth to you to get your inexpensive progressives or bifocal glasses with the lenses 100% correctly placed?
What is the cost per person when this PD meter is shared among a few people? Just a few dollars if 5 or 6 people benefit from this.

When you add up all the benefits, maybe putting your order on hold for a little while obtaining a correct measurement isn't such a bad idea. We are here to help you purchase a pair of glasses that fits perfectly.