Facebook Voting Function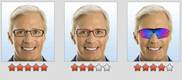 On your voting page, you'll be able to see star ratings and comments left by your friends.
Most people like to go shopping with a friend; having that second opinion is nice to help narrow down the selection. Shopping for glasses is no different. No one wants to choose a frame that actually looks terrible! But when you're shopping online, it's harder to ask a friend without having to take screenshots and sending them out. So, what if we told you that when you shop at Visio-Rx you can take all your friends shopping?!

Clicking on the orange "Ask your friends to vote" button in the "Share" menu will take you to a page where you can select pictures for your friends to vote on.
We've come up with the perfect solution: a voting function that is accessible through Facebook. And using it is very easy!
While you're trying on glasses using the virtual mirror, save the pictures of you wearing the frames that you like the best. When you're finished looking, simply go to "Options" in the virtual mirror, click on "Share", then click on the orange "Ask your friends to vote" button. A new page will open where you will need to mark the pictures you want your friends to vote on. When you've selected all the pictures, press either the blue "Share (fb)" . You can also choose to share the link via email if you don't have a Facebook account.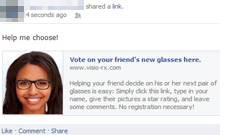 Your Facebook post will look similar to this, making it easy for your friends to provide you with their opinion.
On your Facebook wall, a little preview appears with one of your saved pictures and a link. Your friends will see this and be able to click the link to go vote on your glasses. They don't need to log in in order to vote, all they will be asked to do is give your pictures a star rating and leave a few comments.
We are commited to giving our customers all the tools they need to make an informed decision. That includes providing you with an easy way to get your friends' opinions on your soon-to-be glasses!