3D Lensviewer
Video: Find out what a lens index is.
It's common knowledge that everybody wants the thinnest lenses possible for their prescription, and nobody wants to walk around with heavy, thick, unsightly lenses. Your optician probably picked the appropriate lens index for your glasses before you started shopping online. And now that you're shopping online, it's very possible that you're a little overwhelmed with the question of how to choose your ideal index.
Many of our online competitors have named their range of lens indexes something along the lines of "thin", "extra thin", "super thin", "super ultra thin", "most superduper extra thin", and so on. You get the point. But with all these names proclaiming their indexes to be thin, how in the world does that help you make a decision?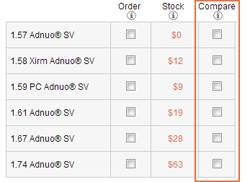 Use the "Compare" column to select 2 lenses for viewing in the 3D Lensviewer.
What if you had a visual of what each index would look like for your prescription? Our 3D Lensviewer lets you compare 2 lens indexes side by side, rotatable in 360°.
You can use the 3D Lensviewer during check out. Once you have entered your prescription, click the big orange button to move on to the lens selection page. Here, we have already picked out the lenses most appropriate for you based on your needs and your prescription. Next to the list of lenses, you will see 2 columns with check boxes. The right column is labeled "Compare". Place a checkmark in the boxes next to the 2 lenses you wish to compare, and press the black button to launch the Lensviewer.
Video: Watch a tutorial on using the 3D Lensviewer.
Once the viewer is launched, it will show you the 2 lenses side-by-side in an automatic rotation. Play around with the buttons, because the 3D Lensviewer is also able to show you crosscuts of the 2 indexes together, so you can see exactly how each index differs from the other. You can click and drag to move the lenses around by yourself. It even provides you with written out statistics about which lens is thicker and heavier than the other! For more information, please watch the video on the left.
Shopping online for glasses is easy at Visio-Rx.com. We are here to help you make an informed decision. And if you have any questions, don't hesitate to contact us.