3D Frame Viewer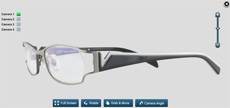 See every frame in stunning detail from any angle, thanks to the 3D Frame Viewer.
Shopping online for glasses can be a real pain when websites only show you one, or just a few, vague pictures of the frame you want; most of the time you can only see one angle of the frame. Will you be unpleasantly surprised when you actually receive the frame by what you find when looking at it from different angles?
No need for such worries when you're shopping at Visio-Rx. Each single frame in our inventory is photographed on our special rotating set up, consisting of 4 cameras. The result? Our 3D Frame Viewer!
It means no more guessing what any side of the frame looks like. All our frames can be viewed in 360° by using the "3D/360° View" button. The viewer will launch with a variety of options, including a deep zoom, the ability to grab and move the frame, an option to auto-rotate the frame, or a click-and-drag function so you can manipulate the frame yourself. You can expand the viewer to full screen mode, or view it in its standard size. If you need some examples, we have included a video demonstration of the 3D Frame Viewer.