Eye Color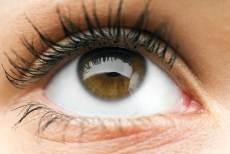 Brown eyes are thought of as dominant over other colors.
When a baby is born and he or she continues to develop, parents often look at their child's eyes to see if they are turning blue, brown, gray, green or hazel. However, eye color is an attribute that is highly dependent on a child's genetic composition, to which both parents contribute. The genes can be mixed and be influenced by different factors but even now, in this modern age, explanations for eye color are incomplete.
Eye Color Development
The iris is the part of your eye that is colored.
Doctors and researchers believe that eye color originates from three genes. Among these genes, one is currently not fully understood. The other two genes account for the typical and most common eye colors including blue, green and brown. Others like hazel, gray and other combinations are a product of the third gene, and are not fully explicable as of yet. People say that brown eye color is dominant, and blue is thought of as recessive. The exact mechanism of eye color is not clear, and requires further study.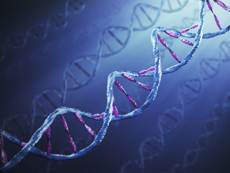 Eye color is determined by our DNA passed on from our parents.
Researchers from the Netherlands announced that through the use of sophisticated DNA analysis they can determine the eye color of adults with 90 percent accuracy. The researchers also mentioned that they were gathering new understanding of genetics and eye color, and were honing in on the ability to predict with more accuracy even combinational eye colors.
Eye color is said to change during the first few years of life of a baby. Most babies are born with blue eyes because of the absence of melanin. Melanin is the pigment responsible for the coloring of our eyes, skin and hair as we get older.
Typically, if both parents have brown eyes, the likelihood of their children to acquire the same eye color is high. More often than not, darker colors dominate, like brown dominating green and green winning over blue. However, it is also possible for a child to have a completely different eye color than either parent.
Sometimes babies are born with two different colored irises, which may be because of a problem with melanin distribution and transport. Other reasons include trauma to the baby during pregnancy, inflammation and hyper pigmentation of the iris or benign genetic disorder.
Most babies are born with blue eyes that change over time to a different color.
Why Does Eye Color Change?
The iris expands or contract to control pupil size. The pupil dilates (enlarges) when exposed to darker areas, and it constricts (shrinks) when in a brighter environment or when the eye focuses on near objects. The eye color may change slightly because of either compression or decompression of the iris as the pupil changes in size.
An individual's emotional response can also affect the color of the iris. The phenomenon is inexplicable but anecdotal evidences suggest that when people are happy and optimistic, the iris tends to be darker.
Age can alter eye color, too. About 10 to 15 percent of Caucasians have observed a change in their eye color over the years. The change is relative to all; some may have darker eyes, others may develop a lighter color with age.
However, if you notice that your eye color is dramatically changing, called heterochromia, it is very important to immediately see your primary care provider. Remember, eye color can be a symptom of different diseases, including pigmentary glaucoma, Horner's syndrome and iridocyclitis.
There may be a lot of pivotal questions regarding the matter of eye color, but, in a nutshell, each individual is unique and beautiful no matter what color your eyes are. And for those that are unhappy with their eye color, colored contact lenses are available. Just remember that you have to have a doctor's prescription in order to purchase these lenses, because they are a medical device and the use should be monitored by an eye doctor. Use caution when purchasing lenses off the Internet and never swap lenses with friends!