Tinted Lenses
The most common and economical type of sunglass lens is a tinted lens. Tinted lenses are available in two version: solid and gradient. The lenses start off clear, and are dipped in a color solution to dye them. The darkness of the lens depends on how long the lens is submerged in the lens dye. Darkness of the lenses is reflected in percentages, which refers to the percentage of sunlight that is blocked by the tinted lens.
Solid and Gradient Tinted Prescription Lenses
These lenses have UV protection built in the lenses, and are a great budget-friendly solution to needing prescription sunglasses.
| | |
| --- | --- |
| | Solid tinted lenses: Lenses are the same darkness all the way through. The darkness and color are chosen upon checkout, after selecting your lens material. Visio-Rx.com offers 10 different colors and a several levels of darkness. |
| | Gradient tinted lenses: These lenses are dark at the top and fade to light at the bottom. We offer gradient lenses in 10 different colors. The darkness percentage for gradient tinted lenses is measured from the top. For example, an 85% darkness tint on gradient lenses means that the lens starts at 85% darkness at the top, and fades to lighter at the bottom. |
We offer tinted lenses in the following colors: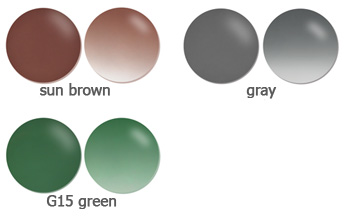 Tinted lenses can be applied to any frame in our collection. When you've found a frame you love, simply click the "Add Lenses" button. On the prescription page, select "Yes" from the dropdown next to the question "Do you need sunglasses?". Another dropdown will appear below it. There, select "Tinted (solid or gradient)". Then, enter your prescription and follow the prompts on the next page.
We look forward to providing you with your next pair of sunglasses!