Sports Sunglasses
Wearing your regular prescription sunglasses while playing sports or engaging in physical activity may not be a safe idea. If your normal sunglasses are not made from impact and shatter resistant materials, you could be putting your eyess at serious risk if you fall or take a flying object to the face.
Prescription Sports Sunglasses
For the sporty types among us, we offer complete sets of sports sunglasses. These frames come with several detachable and interchangeable lenses, have an anti-slip material on the temples and have a detachable prescription lens piece behind tinted lenses. Most of the lenses have a nice mirror coating in various colors, as well. And, most importantly, these glasses are approved for sports use. The outer tinted lenses are made of polycarbonate, which is very strong. We highly recommend that our customers order an upgrade to polycarbonate, Xirm or Trivex as well, when purchasing these glasses.
Sports Sunglasses and Accessories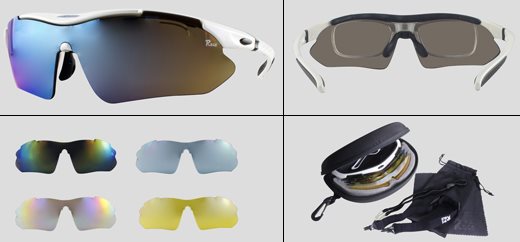 Top left: The frame viewed from the front.
Top right: The frame viewed from the back, with the prescription attachment visible behind the tinted lens.
Bottom left: An example of the extra lenses that come with the sports sunglasses (colors of extra lenses may vary per frame).
Bottom right: The case, frame, extra lenses and accessories displayed. All items are included in the frame price.
Frame displayed in the picture is Race Pictor; this model comes in 7 colors and, as with all our glasses, includes single vision standard lenses with all lens coatings (price does not include upgrade to impact resistant lens).
You can view all of our sports sunglass frames by selecting "Sports Sunglasses" as a search option, which can be found under search attribute "Specialized Shades" within the frame search. Or you can press the "Begin Shopping" button below!