Training and Tests for Sports Vision
Sports vision tests go beyond seeing objects or letters on a regular eye chart. Improved athletic performance can be evident with the right assessment of sports vision skills. These skills include eye tracking ability, improved depth perception, and hand-eye coordination. These skills help athletes predict motion of objects, deal with turns or obstacles, and anticipate fast moving objects.
Kinds of Vision Tests for Sports
Every athlete has different vision needs; as a result, many different tests have been developed to test sports vision. Some examples are: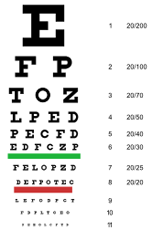 Snellen charts are used for regular vision tests, as well as sports vision tests.
Snellen Eye Chart: This is one of the most common vision tests. It includes reading and looking at letters on a rectangular chart 20 feet away from where the patient is standing. The patient is asked to look at letters arranged in rows until the letters become smaller. These letters become smaller until the patients finds it hard to look at the smallest letters on the line. Often, the 20/20 vision (also known as "normal vision") line is 4th from the bottom of the chart.
If a patient has trouble reading the eye chart, then fitting contact lenses or eye glasses are essential for improving visual acuity. For vision correction that does not depend on contacts or glasses, a patient can undergo a surgical procedure called LASIK. Correcting vision problems may seem easy, but sports vision specialists agree that many young athletes these days do not know they already have existing problems in vision. Unidentified vision problems can affect an athlete's performance.
Tests for Contrast Sensitivity: Contrast sensitivity is an important aspect in assessing sports vision. There are various tests available to assess this. One usual approach is the identification of parallel gray stripes and their orientation against backgrounds that eventually start to match the stripes' shade. A person who has poor sensitivity to contrast or has difficulty seeing highly contrasted objects on a similar background, can be treated with glasses fitted with certain lens tints for increased visibility. Nonetheless, not every sports vision expert agrees that tint can help with contrast sensitivity.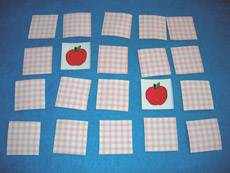 Playing memory games as a child is fun, and it also helps develop and train your visual memory.
Games for Visual Memory: These usually involve asking a patient to remember two identical images in different positions and then identify where these images are located, similar to the memory games that we played as children. The more matched items a patient can get, the more accurate his visual memory is.
Tests for Ocular Alignment: To effectively test for ocular alignment, a patient is asked to cover one of his eyes. The doctor then observes how he responds to visual stimuli using the other eye. The other eye is covered next and the uncovered eye is again observed for stimuli. Using the same stimuli, the doctor observes both eyes' reactions towards it once both are uncovered.
Another test to assess for ocular assignment is the Hirschberg test. This assesses the way light reflects off the cornea. Through analyzing certain points where reflections off the cornea occur, alignment problems can be identified.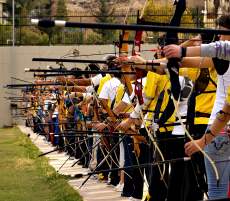 Knowing which eye is dominant is important, especially for sports like archery.
Test for Eye Dominance: Also known as the Miles test, this eye vision assessment method involves asking a patient to form a triangle using his fingers and then framing a spot or object with both eyes open. The dominant eye can be identified once one of the eyes is closed and then the other one. The eye that maintains a steady view of the object being framed is the dominant eye. Another method used to test eye dominance is the Dolman method. This method asks the patient to have both eyes focused on a single object as it comes closer. During this test one eye usually loses focus and the other can be considered dominant.
Devices for Eye Tracking: There are numerous advanced devices used for improving and assessing how well the eyes can track or follow moving objects, including computer systems where the eyes follow movement on a monitor. This device can also train the eyes to follow motion which is ideal for an athlete's visual training.
Measurements for Depth Perception: A person's capacity to look at objects in 3 various directions can be assessed by tests such as the Howard-Dolman Apparatus; a box equipped with lights inside that is positioned at eye level. A patient is then asked to look at 2 vertical, black rods manipulated by the patient himself through a string and pulley system. The patient's capability to identify where the 2 rods are situated in relation to each other at varied distances assesses depth perception.
Measuring eye teaming through testing the eyes' ability to accommodate is done with this Saladin Near Point Balance Card test.
Tests for Eye Teaming: One example of assessing how well both eyes function as a team is the Saladin Near Point Balance Card. This equipment effectively measures how each eye fixes on a target and how both eyes work together in order to accommodate at varied distances.
There are many other reliable tests out there that can test an athlete's visual acuity. Assessing visual aspects such as speed in visual processing and hand-eye coordination are essential for every athlete to bring out the best of their skills.