Xanthophylls to Lower the Risk of Eye Diseases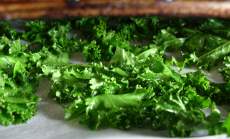 One cup of cooked kale contains the highest concentrations of lutein and zeaxanthin (23.7mg)
Two of the most common eye diseases that you should watch out for these days are cataracts and macular degeneration. There are nutrients that can help lessen the risk for these diseases, namely lutein and zeaxanthin.
Zeaxanthin and lutein belong to a group of compounds called xanthophylls, which are naturally occurring yellow pigments in plants and vegetables. In high concentrations, lutein may appear dark orange.
Apart from being found in a number of green plants, fruits, and vegetables, zeaxanthin and lutein are found in higher concentrations in your eye's macula lutea, giving it its yellowish color.
Zeaxanthin and lutein seem to play crucial antioxidant roles in the body. Both have the capability to protect the body from the harmful effects of free radicals, alongside other natural antioxidants like beta carotene, vitamin C, and vitamin E. These free radicals are uneven molecules that can kill cells and play part in various diseases. Moreover, apart from its importance to vision and eye benefits, lutein can aid in the protection against atherosclerosis which is the leading cause of most heart attacks.
Benefits of Zeaxanthin and Lutein
It has been thought that the xanthophylls in the macula shield blue light from entering the retina's underlying structures, thus lessening the potential for oxidative damage induced by light which could eventually lead to macular degeneration. There are also numerous studies that have indicated that lutein and zeaxanthin can help prevent or slow down the disease's progression.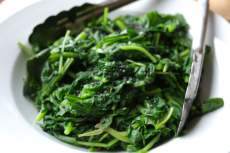 Cooked spinach is another excellent food source for xanthophylls.
According to research published in Nutrition and Metabolism, nutritional supplements with lutein and zeaxanthin efficiently raise the macular pigments in your eye's optical density in most of its human subjects. This macular pigment is known to bring protection from macular degeneration development. In another study published in the American Journal of Epidemiology, higher levels of these pigments in diet are linked with low occurrence of macular degeneration.
Foods Rich in Zeaxanthin and Lutein
Green leafy and yellow vegetables are the best natural source of zeaxanathin and lutein. Cooked spinach, kale and other collard greens top the list, as stated by the US Department of Agriculture (USDA). There are also non-vegetarian sources including egg yolks. However, if you are concerned about high cholesterol levels, getting these nutrients from veggies and fruits is a better option.
Zeaxanthin and Lutein Supplements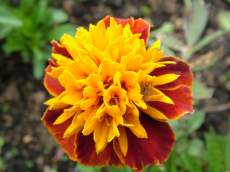 Lutein supplements are usually made from marigold flowers.
Due to the wonderful benefits of zeaxanthin and lutein to the eyes and cardiovascular system, a number of companies have incorporated them in their multivitamins. Other companies have even introduced a vitamin supplement for the eyes that are mostly zeaxanthin and lutein. As of today, there is no recommended daily allowance (RDA) for these two nutrients. However, experts agree that at least 6 mg of lutein a day can demonstrate beneficial effects.
Taking too much of these pigments has not yet been proven to be toxic to the body. In some situations, those who consume large amounts of green and yellow fruits and vegetables develop carotenemia: a harmless yellowing of the skin that should not to be confused with jaundice.
In most lutein supplements, the major source of lutein comes from marigold flowers. When choosing such supplements, always make sure that you are buying a reputable and reliable brand. Furthermore, do not forget that people have different reactions to different supplements which can have adverse or undesirable effects on the body. It is important to consult your doctor before starting any new supplements.

See our landing pages.