Take Control of Dry Eyes with Nutrition
Symptoms of dry eyes, including sporadic blurry vision, burning, redness, and stinging, can be reduced with daily dosages of fish oil or flaxseed oil and lubricating eye drops. Additionally, fatty acids can also help reduce the risk of eye diseases like macular degeneration and cataracts.
Fish oil and flaxseed oil contain dietary fatty acids which are very important for varied health benefits including dry eyes prevention and control.
Some of their other benefits include lowering the risks of heart disease, stroke, cancer, Alzheimer's, and osteoarthritis.
Flaxseed Oil
Flaxseed oil contains omega 3.
The nutritional components of flaxseed oil are omega 3 fatty acids.You can buy flaxseed oil supplements in either liquid or capsule form, depending on which is more convenient for you. Nonetheless, if you choose to take in capsule, you need to have it in larger doses in order to attain the average daily dose that is recommended by your doctor for dry eye treatment. When it comes to buying flaxseed oil in liquid form, make sure to look at a cold-pressed variety and store it in your refrigerator, since its nutritional value can be destroyed easily by heat, light, and oxygen.
You can also extract the benefits of flaxseeds at home. Using a coffee grinder, grind up flaxseeds and sprinkle them over your dinner or mix it with fruit juice. If you do this, don't forget to use the seeds immediately after grinding in order to obtain the full benefits.
A high level of alpha linolenic acid (ALA), a type of omega 3, is present in flaxseed oil. ALA is transformed into 2 different omega 3 acids, DHA and EPA, during digestion. DHA and EPA are needed by the body to protect cell membranes.
Fish Oil
Fish oil is also a great source of omega-3 fatty acids and offers noteworthy benefits over flaxseed oil. Unlike flaxseed, fish oil has EPA and DHA omega 3 fatty acids in natural form. Thus, no breakdown is needed by the body in order to convert ALA to these two forms. Although ALA is easily converted to EPA, DHA conversion happens rather slowly. Moreover, certain foods can affect conversion which is rather unpredictable. Diets with unhealthy fatty acids or trans-fat or partially hydrogenated oils can cause the reduction of ALA conversion to EPA and DHA. These foods can include fried foods, cookies, chips, and many others.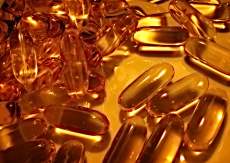 Fish oil is more concentrated than flaxseed oil.
A number of researchers have noted that 7.2 grams of flaxseed oil is equal to 1 gram of fish oil. Some also claim that 11 grams of ALA is necessary to make 1 gram of DHA and EPA. This is why knowing exactly how much DHA and EPA your body receives is much easier when you take fish oil rather than flaxseed oil.
Just like flaxseed oil, fish oil can also be purchased in liquid and capsule form. Some products of it have lemon flavors or are enhanced to reduce the fishy taste that comes with it. Another good source of omega 3 is cod liver oil. A tastier way to have the best benefits of fish oil is by eating grilled salmon or any cold water fish at least 3 times a week.
Flaxseed Oil or Fish Oil?
Many health experts highly recommend fish oil over flaxseed oil because it doesn't have to convert ALA to DHA and EPA, but a few other things should be kept in mind before making a decision:
Flaxseeds can be easily ground up using a coffee grinder.

Raw flaxseeds can be quickly ground up in your kitchen, and are cheaper than either of the supplements.
Fishy aftertaste (and sometimes fishy tasting burps) are a common side effect of fish oil supplements.
For vegans and vegetarians, flaxseed oil will be the obvious choice.
Fish oil omega 3 fatty acids are classified by the FDA as Generally Regarded as Safe (GRAS). However, some side effects of fish oil supplements include acid reflux, upset stomach, heart bun, abdominal pain, and burping.
Certain Precautions to Keep in Mind
Just like taking in any nutritional supplement, it is important to consult your doctor prior to using either flaxseed or fish oil, because these supplements might interact with other medications you are taking, especially blood thinners. Both fish oil and flaxseed oil can increase bleeding and reduce the clotting of blood. Furthermore, the long term use of fish oil can lead to vitamin E deficiency for some people; thus it is always a good thing to look for fish oil or flaxseed oil supplements that also comes with vitamin E.