Omega 3 for Healthy Eyes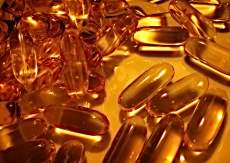 Fish oil is a great source of omega 3.
It may sound strange, but your eyes can suffer without the right amount of fat. Omega 3 fatty acids are vital nutrients for the regular functioning and production of your body's components, specifically your muscles, organs, cells, and nerves.
Fatty acids are necessary to aid in the regulation of heart rate, blood pressure, and the proper clotting of blood. Essential fatty acids (EFA) are, as their name states, essential for your diet because the body cannot produce them. In order to stay healthy, you need to get these fatty acids from food sources. We will be focusing on 2 types of EFA: omega 3 and omega 6. Omega 3 fatty acids are known to benefit the eyes and include alpha-linolenic acid (ALA), docosahexaenoic acid (DHA) and eicoapentaenoic acid (EPA).
Omega 3's Role in Vision Development
Numerous clinical studies have indicated that omega-3 fatty acids are necessary for the development of an infant's vision. DHA is known to be present in breast milk and can also be found in baby formulas. Based on a study made public in Pediatrics journal, infants who were pre-term and fed with DHA-supplemented formulas demonstrated considerably better developed vision at 2 and 4 months of age. This data was compared with similar infants who were given formulas without DHA. The right amount of omega 3 in a pregnant woman's diet is also important for normal infant development.
Benefits of Omega 3 to an Adult's Eye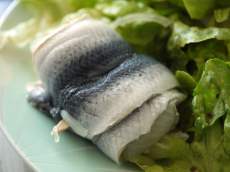 Eating herring can help you obtain more omega 3 in your diet.
Adults, just like infants, can benefit significantly from proper omega 3 intake. Studies have suggested that omega 3 helps protect adults eyes from vision conditions such as dry eye syndrome and age-related macular degeneration (AMD). Omega 3 can also decrease the risk of high intraocular pressure (IOP), thereby decreasing risks of glaucoma.
In a 2008 study, subjects who consumed oily fish once a week demonstrated half the risk of wet AMD, in contrast with those who never ate oily fish at all. In another study, this time conducted by the National Eye Institute over a period of 12 years, participants who had the highest concentration of omega 3 in their diet were 30 percent less likely to develop macular degeneration.
Moreover, omega 3 fatty acids are known to lessen the risk of having dry eyes, while omega 6 can be harmful if consumed in excessive quantities. One study found that women who consumed excessive amounts of omega 6 vs. omega 3 (a ratio of 15:1) are much more likely to develop dry eye syndrome than women who consumed the 2 nutrients at a ratio of 4:1.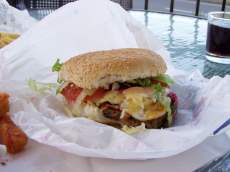 A typical American diet contains far too much of the omega 6 ("bad") fatty acids.
Foods Rich in Omega-3
Omega 3 and omega 6 both are vital to your health, and the proper balance of these two in a diet can reap great benefits to your body. Many experts believe that the consumption of omega 6 vs. omega 3 acids should not exceed a ratio of 4:1.
Typical diets in America consist of overconsumption of meat and unhealthy processed foods. With this imbalance of good (omega 3) and bad (omega 6) fats, serious health problems are reaching epidemic proportions. These common health conditions include cancer, heart disease, diabetes, and depression.
The best way to maintain this balance and improve your diet is to include foods that are abundant with omega 3 and contain less omega 6. Cold water fish high in EPA and DHA are the best sources of this good fatty acid. This includes fishes such as herring, tuna, salmon, and sardines. Those fish varieties caught in the wild are much better as compared to farmed fish which are more likely to be exposed to chemicals and pollutants.
Cutting out excess omega 6 is as easy as eating healthier, and avoiding processed and fried foods.
According to the American Heart Association, a minimum of 2 cold water fish servings a week is enough to lower the risks of cardiovascular diseases and eye doctors suggest the same thing in order to lessen eye problems.
If you do not like fish, there are other food sources that you can choose which are also high in omega 3. There are supplements available in either liquid or capsule form which don't have the fishy flavor or after taste. You can also opt for flaxseed oil, dark green leafy veggies, and walnuts.