Low Vision and Reading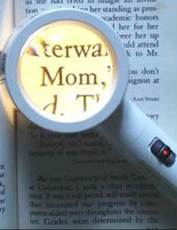 Some hand magnifiers have lights on them to make reading even easier, especially in dimly lit environments like theaters and bars.
People love to read. For many, it is a passion. However, there are thousands out there who would love to feast their eyes on a book, but can't. Often, these people with low vision give up on reading, because what used to be a fun and effortless task is now something that requires maximum effort.
Fortunately, there is a wide variety of devices that can be used by people with low vision. These tools can help you read easier. Among the most affordable devices are hand held magnifiers. Some magnifiers even come with small reading lamps for improved lighting, and some of them are placed in adjustable stands or can be hung around the neck for further convenience.
Another aid is the strong reading glass which comes in either a half or a full lens. It can be bought with reading lens segments which are high powered. Reading telescopes can also be used by those with low visions. These can be mounted on customized eye glass frames with or be used as a hand held device. These customized frames have padded bridges and an enhanced nose pad to protect the nose from carrying the telescopes weight. Because such glasses are highly individualized and require a lot of interaction with your doctor, Visio-Rx is unable to offer these to you.
There are also video magnifiers which can help low vision patients. These actually project printed material on regular computer or television screens. Those with low vision can simply move closer to the screen as needed and adjust its magnification, contrast, brightness, and color according to preference. This kind of tool is more advantageous because unlike telescopes in glasses, there is no added weight and the user can sit in a comfortable position. This solution may be a bit costly compared to reading glasses or simple magnifiers but based on its quality, benefits and personal preference, it may be worth every penny.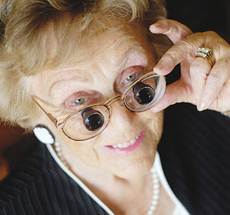 Reading telescopes will help people with low vision regain some near vision.
There are some reading devices that still need prescriptions from eye care experts because they are customized for specific needs. This is why consulting your eye doctor is essential prior to purchasing any of these devices. Only professionals can advice patients with low vision on the best devices for their degree of the condition.
The Importance of Good Lighting
Light is by far the simplest low vision aid there is. For people with low vision, increasing the amount surrounding light can effectively improve their reading ability. The brightest light bulbs can be used along with the right fixtures. Lamps with 3 way sockets that permit the use of bulbs which can be raised up to one 150 watts for reading can be used.
Natural sunlight is the most reliable light source for reading. It is better to arrange furniture in such a way that a person with low vision can sit comfortably near the window for reading during the day. Full spectrum light bulbs can also be used to get that natural sunlight glow. Fluorescent lights, however, can cause too much glare.
Non-Optical Aids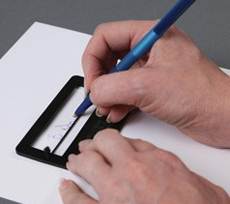 Signature guides will help you sign where you're supposed to.
People often don't realize just how important proper eyesight is, not just for reading but also in everyday life. For those who are visually impaired, the simplest activity can be challenging. With this in mind, low vision devices plus good lighting and affordable non-optical aids can help assist their daily lives. Non-optical low vision aids include:
Electronic organizers with voice recording capacities
Large printed books
Talking timers, clocks, telephones, and watches.
Electronic or talking pill bottles and blood pressure meters
Organized wallets that can easily organize various things into different compartments
Signature guides
Papers that are wide lined
Pens with large felt-tips
A variety of these devices can be found in local bookstores, drugstores, and department stores. A low vision specialist can give recommendations as to where to purchase these devices.