Low Vision and Distance Vision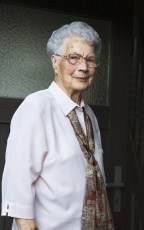 Thanks to technological advances in low vision aids, you can still live an independent life.
If you have low vision, it does not mean you need to completely rely on other people. Today, there is a wide selection of low vision devices that can help you function fully and efficiently inside and outside the house.
Some of the most common problems for people with impaired vision are glare and light sensitivity. These are also prominent problems for cataract patients after they've undergone surgery, as well as those with diabetic retinopathy and macular degeneration.
There are special blue-blocking glasses, which absorb the blue part of the visible light spectrum, and polarized glare reducing lenses that can be worn outside for sunny or cloudy days. There are photochromic lenses which darken or lighten depending on the degree of sunlight you are exposed to.
Colors of lenses for eye wear are not just for fashion. Lens tints have the ability to transmit light percentages as well as absorb blue light. This is what a low vision specialist usually takes into account when it's time for you to choose the right lens. Blue blocking and glare reducing lenses can be found in prescription glasses, side shielding styles (can be worn over glasses or as it is), and nonprescription clip-ons.
For many outside activities, partially sighted people may need assistance for distance vision. Devices that can help them with seeing adequately outside include binoculars, handheld monocular telescopes, or eyeglass mounted telescopes. Prescriptions and special training are needed before you can utilize these distance vision aids. Low vision specialists can help you with deciding which device best suits you.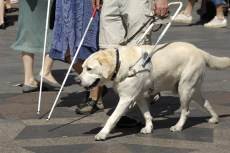 A cane and a guide dog can help you function without depending on other people.
Furthermore, amongst other distance vision aids, canes can also be great helping tools. Many people think of a cane as something used by someone who is completely blind. However, if your peripheral vision is compromised or you have night blindness, a cane can help you make it through unpaved areas and maintain your balance. Canes can help prevent falls, which are the leading cause of injury related deaths among older people. There are telescoping aluminum canes, foldable canes, or walking sticks that are sturdy, light and can be placed in a carrying case on your bag or belt. If you use canes for night blindness, you can add reflectors to help drivers see you in the dark.
Due to the specialized nature of these tools, Visio-Rx is unable to offer them to you. Speak to your doctor if you feel you are in need of any of these tools.