Living with Low Vision
Video: 20/20 vision, visual acuity and the Snellen eye chart explained.
A life with low vision can be quite a challenge. Luckily, there are many devices that can help people with such a condition in their everyday lives. What is low vision and why is it considered a vision disorder?
The term "low vision" is used by eye care professionals to imply to a certain visual impairment which can't be corrected with contact lenses, regular eye glasses, medicine, or even surgery. People with low vision generally have a visual acuity worse than 20/60, as measured by a Snellen or tumbling "E" eye chart. Low vision also includes visual field loss like blind spots or tunnel vision.
There are a number of causes for low vision. These causes include hereditary and acquired diseases, and eye injury. In other cases, low vision pertains to lack of visual acuity wherein the person sees objects as blurry. Low vision also includes visual field and peripheral vision loss. Contrast loss, distorted vision, and light sensitivity are some additional symptoms of low vision.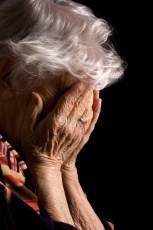 Low vision can cause depression and frustration.
A person's eyesight with low vision may be misty due to cataracts, blurry or partially covered in the central visual zone due to macular degeneration, or blurry and distorted due to diabetic retinopathy. Those with eye diseases such as glaucoma can lose their peripheral vision and have trouble seeing during night time.
Just like adults, children can also have their vision impaired due to factors such as injuries or birth defects. Nonetheless, low vision is a condition commonly affecting seniors and adults. If a person has vision loss he or she may be traumatized, depressed, or frustrated, depending on the cause. The majority of people who have developed this visual disorder lose their jobs. As stated by Lighthouse International, 43.7 percent of visually impaired Americans ages 21 to 64 are employed. This is in sharp contrast to 80 percent employment among people with normal sight.
People who have low vision cannot drive, and often feel isolated from the world around them. Getting around town or their neighborhood, going shopping, and earning a living independently may be a struggle. Many people who are visually impaired are totally dependent on relatives or friends and often do not know how to deal with their condition in a positive way.
If you are one of the thousands out there who have impaired vision which interferes with daily activity performance, you need to see an eye care professional as soon as possible. You need to undergo a comprehensive eye exam and have your eyes checked inside and out.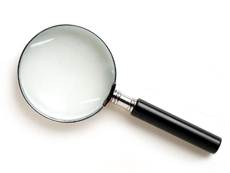 A magnifying glass is a cheap, portable tool that can come in very handy for people with low vision.
Bad vision that is difficult to correct with regular contact lenses or eyeglasses could be the first sign of a major eye problem or eye disease. These diseases include glaucoma, macular degeneration, and diabetic retinopathy. Poor vision could also mean that you have a developing cataract which needs to be removed in order to correct your vision. Whatever eye condition you may have, get it checked out before permanent vision loss ensues.
If your eye care specialist discovers that you already have vision loss that is impossible to correct with eye glasses, surgery, or medications, he or she will typically refer you to an eye doctor who specializes in low vision. This specialist is usually an optometrist who can evaluate the type and degree of vision loss and can prescribe aids for low vision such as telescopes, magnifiers, and many others. He or she can also let you chose to use adaptive devices which are non-optical like audio tapes, large print materials, special lighting, and signature guides for documents. If deemed necessary, your doctor can refer you to a mental health professional in order to help you effectively cope up with your vision loss.