Rx Sunglasses 101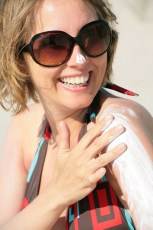 Sunglasses need to block 100% of UV rays in order to properly protect your eyes.
Imagine yourself driving on a very hot day: the sun's glare directly in your eyes and you're wishing you knew what had happened to your magnetic sun shades that came with your prescription eyeglasses. Maybe investing in a pair of prescription sunglasses isn't such a bad idea. Many of our customers have multiple pairs of sunglasses, which they keep in their car(s), at the office, in their briefcase, etc., so as to always have one within reach. The price should certainly not deter you from doing the same.
People who are already accustomed to wearing contact lenses find prescription sunglasses more practical alternatives for outdoor use. For example, you do not want to use your contact lenses while on the beach, because your eyes can get itchy from the dust, sand, water, and wind. You could wear conventional sunglasses over your contacts but be careful with over-the-counter sunglasses; not all have full UV protection built in! Moreover, it is not recommended to wear your contacts while swimming due to the possibility of eye infections.
More Advantages
If your vision requires you to have corrective eyewear, you have some options regarding sunglasses. The great thing about prescription sunglasses is that they can be made available for any lens prescription, including progressive and bifocal lenses. This is great if you need such lenses for reading books and magazines outdoors or by the pool.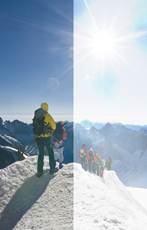 Polarized sunglasses, like Nupolar by Younger, significantly reduce reflected glare.
Another wonderful advantage about prescription sunglasses: they come in various frame styles. Any frame on our website can be used for sunglasses, simply select a tint upon check-out. One pair of glasses isn't enough, so why should one pair of sunglasses suffice?
With our prescription sunglasses, you do not have to worry about your options because this eyewear can be bought in all types of lens materials, including polycarbonate, high index, CR-39 plastic and Trivex.
Another idea is to buy prescription lenses with photochromic tints. These kinds of lenses darken automatically in sunlight and then become clear when used indoors. Photochromic lenses are without a doubt convenient, but may have some drawbacks including the fact that only UV rays can activate the tint. These lenses do not darken well in a car because car windshields block some UV rays. Also, these lenses do not darken as much as solidly tinted lenses.
Or how about polarized sunglasses? Polarized lenses block blinding glare, thus improving your vision tremendously while exposed to bright sunlight.
Magnetic sunshades are a great option as well. These can be stored conveniently in your car for sunny or bright days.
Glare and UV Protection
Your major concern when purchasing prescription sunglasses should be with UV protection. UV protection is not related to the density and color of lens' tint. Therefore, you can select a lens at any shade you prefer, and we guarantee you that your new sunglasses will come with 100% UV protection.