Polycarbonate vs. Trivex vs. Xirm
Popular, strong, but not very good. That pretty much sums up polycarbonate as a lens material. You want a strong lens material, but are fed up with the poor visual acuity and the nasty chromic aberration of polycarbonate? Has your kid ever complained about their lenses just not being nice to see through? Please read on – there are much better materials available at just a few dollars more per pair.
Polycarbonate
The space race to the moon in the 1960′s laid the foundation for polycarbonate. The ophthalmic lens market started to use it in the late 1970′s, thus polycarbonate has been around essentially unchanged for quite a while. It enjoys a fair market share, mostly in children's, sports and safety eyewear, due to its superior impact resistance. A higher index of refraction and lower specific gravity make polycarbonate lenses thinner and lighter than their 1.50 plastic counterparts. Standard UV protection and ubiquitous availability also contribute to its popularity.
Unfortunately, polycarbonate has quite a few drawbacks. One of the main complaints about polycarbonate is its poor optical quality, or better said its lack thereof. It has an Abbe value of 30, causing chromatic aberrations which are the worst of any lens material in use today. Remember that the eye has an Abbe value of around 45 – 50, so any lens with an Abbe of less than 45 will reduce the clarity with which the eye can see through it. Polycarbonate's Abbe is just borderline acceptable.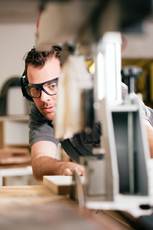 It's important that protective eyewear has lenses made out of one of these materials.
Trivex
PPG, located in Pennsylvania, USA is one of the major chemical companies producing the base materials for lens manufacturing. In 2001, PPG introduced a completely new material called Trivex. It meets all of the FDA standards for safety glasses and was the only lens material other than polycarbonate to pass FDA Impact Resistance Tests. Both popularity and availability of Trivex have been increasing slowly. Trivex has a slightly lower refractive index (1.53 compared to 1.59). Yet its specific gravity made it the lightest of any lens material. In addition, Trivex also has standard UV protection.
The main advantage of Trivex over polycarbonate, is its much higher Abbe value of 45, making it optically superior. As the eye has an Abbe value of around 45 – 50, Trivex' properties are perfectly matched to the eye. This means that annoying chromatic aberrations are a thing of the past. Further distinguishing itself, Trivex is ideal for drill mounting, as it material properties in this respect are superior to polycarbonate.
Unfortunately, Trivex is a lens material that is still positioned as a significant upgrade from polycarbonate and hence carries a hefty price.
Enter Xirm
Since 2001, other chemical companies have been working on formulas for materials that mimic the excellent characteristics of Trivex. The company that has been most successful in this is KOC from South Korea. Their new monomer has material properties similar to Trivex and also enjoys a high 45 Abbe value. An added benefit is the higher index than Trivex, resulting in a slightly thinner lens. Xirm passes the same FDA tests as Trivex.
A major benefit is the very reasonable price point of the Xirm material. At Visio-Rx.com it is possible to upgrade from an optically inferior polycarbonate lens to a premium Xirm for a very modest amount. The price difference is so small that we would encourage anyone who has previously used polycarbonate lenses to try the Xirm. You will not be disappointed!

Summarizing:
| | | | |
| --- | --- | --- | --- |
| | Polycarbonate | Trivex | Xirm |
| Chromatic aberration | Significant | None | None |
| Use in rimless frames | Yes | Yes | Yes |
| Index/thickness | 1.59 | 1.53 | 1.58 |
| Abbe value | 29 | 45 | 45 |
| Passes FDA impact tests | Yes | Yes | Yes |
| UV protection as standard | Yes | Yes | Yes |
| Price | Modest | High | Slightly more than polycarbonate |