Photochromic Lenses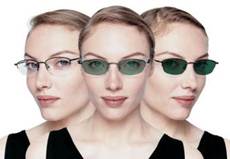 Photochromic lenses gradually change from light indoors to dark outside.
What are photochromic lenses?
Lenses which are clear when indoors and then automatically change to a color when outside are referred to as "photochromic" lenses. The color adjustment takes place so gradually that you do not notice it. However, We have various photochromic lenses available on our website, with different characteristics and price levels. Please do keep in mind that most photochromic lenses don't work very well while driving, since these lenses are UV activated, and the car's windshield blocks most UV radiation. Also, photochromic lenses at their darkest are not as dark as regular sunglasses.
Our entry level level photochromic lens is the Adnuo® FluxLD. This a very competitively priced lens and comes with our standard all-inclusive coating package. This lens is available only in index 1.57.
Video: how Drivewear® lenses work.
Our premium photochromic lenses are of the Transitions® brand. Transitions is a company that is owned by the major lens manufacturers. They all send their lenses to Transitions Optical for the photochromic treatment. That explains why Transitions® is used as a brand for all photochromic lenses offered by premium companies such as Essilor, Hoya, Carl Zeiss, Younger and Rodenstock. Transitions VI lenses are available in a variety of materials and indexes (thicknesses).
A different type of Transitions lens is the XTRActive. This is a lens that turns darker in full sun, and has a slight tint to it when used inside. A lens recommended for people who spend a lot of time in the sun, yet still want to use the same pair of glasses indoors.
Children's eyes are very sensitive and should be protected from harmful UV rays.
For use in a car, the Drivewear® lenses are especially recommended. These lenses are the only ones available that will change color behind the windshield of a car. Since these contain a combination of polarized and photochromic characteristics, these lenses are especially appropriate for use when driving. A premium lens, with excellent reviews from our customers.
Sunglasses for children? Most parents know that it is not easy to get your children to consistently wear sunglasses when the sun is out. Yet it is very important because their eyes are more sensitive to UV radiation, as their young eyes are still developing. Some 80% of total lifetime exposure to UV rays takes place before the age of 18. Photochromic lenses are a great way to ensure complete protection of your child's eyes; they are already used to wearing their glasses, and protection will happen automatically as the lenses darken when they are outside.
Photochromic glasses combine 2 pairs of glasses into one. You won't have to search for your sunglasses and carry them with you. Instead, you've got all you need already sitting on your nose. How convenient.