NightDrive
NighDrive Gold
Driving at night can be an uncomfortable experience for many people.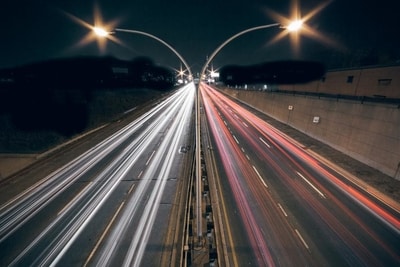 Distortions caused by car and street lights at night.
Reflections from other car head and tail lights, traffic lights and street lighting can produce large halo's and blurring of the image. This in turn makes judging distances and traffic situations difficult and can lead to dangerous situations. Many people are less confident when driving at night.
At night, it is especially important that as much light as possible reaches your eyes. This is why an anti-reflection coating on the lenses is important. The standard AR coating works great during the day. And in many cases at night as well. However, for people who suffer from the nightly halo and blurring effects, a special coating is required.
What causes this unpleasant effect at night?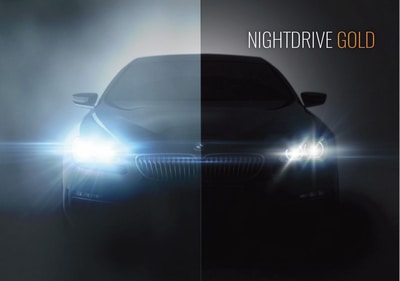 Nightdrive Gold lens coating helps in removing unwanted reflections at night

In the dark our pupils are dilated (larger) which results in light beams being refracted differently inside the eye, creating a blurred image and reducing contrast. Strangely enough, the blurring does not happen to everybody, but some people are very susceptible to it, and are therefore reluctant to drive their cars at night.
A new, innovative, reflection control technology has been developed to address the problem. This coating ensures that 99% of the light reaches your eye, and at the same time compensates the light rays which cause the halo and blurring effects. In addition, the coating results in a noticeable improvement in perceived contrast. The result is a much improved driving experience which makes the driver with NighDrive Gold lenses much more secure behind the wheel in dark conditions.
An added benefit is that these lenses work well during daytime conditions as well,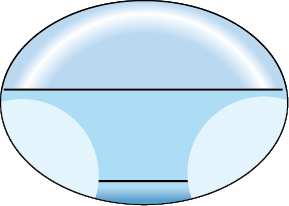 For progressive lens users, a combination of Drive Lens design with NighDrive Gold coating is optimal.

As a side note:
If one searches the internet for help with night driving, numerous links to specialized night vision glasses are shown. Most of these glasses have a 20% tinted yellow hue, and are marketed to reduce glare from headlights, streetlights and traffic lights. The American Academy of Ophtamology recommends against the use of these types of lenses.
Tinted or polarized lenses used on so-called night vision glasses are designed to limit or reduce the amount of light getting to the eye. Anything that does this at night will actually make it harder to see, not easier. The problem is compounded as the yellow tint gives the wearer the impression they are seeing better, when in fact the reverse is actually true. After all, would anyone consider wearing sunglasses at night to see better?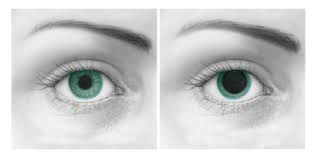 At night the pupil is dilated, This causes unwanted reflections for some people.

Read the entire article here. View this ABC news segment.
This opinion is shared by the Sunglass Association of America (now The Vision Council).
In order to prevent customers from seeking quack solutions for a real problem, the optical industry has dedicated significant research resources to finding a solution which works for prescription glasses. After the article by the AAO was published, new special-purpose lens coatings have been developed using advances in light ray analysis and vacuum coating technologies. This has resulted in an advanced NighDrive Gold coating which reduces undesirable reflections at night while maintaining a 99% light transmission through the optical lens.
Frequently Asked Questions
Will this help me?
"I'm experiencing serious problems seeing while driving at night. Is the NightDrive Gold appropriate for me?"
Yes, exactly. The NightDrive Gold reduces the blinding reflection effects at night which makes driving less stressful.
How does NightDrive work in practice?
One of our customers describes it as follows: "When at night a car is aprroaching me from behind, I used to see only a wall of light in the mirrors. Distance or speed were impossible to judge. With the NightDrive I can now clearly see the headlights. Thus I can perfectly estimate the distance and speed of the approaching car. And the reflections are much reduced."
What about oncoming traffic?
Another customers describing her experience: "Without NightDrive, I experience a lot of reflection from everything. Be it backlit roadsigns, street lighting or headlights of oncoming traffic. With NightDrive, the halos around these lights are gone. and I can see the lights clearer, sharper and less brightly. The reflections are much less annoying and I feel much more confident behind the wheel. My spouse notices a difference in my driving style when I'm using the NightDrive pair."
Are all reflections gone?
Oncoming head lights can still be annoying, espcially with the new HID or LED lights - but NightDrive filters the flare. This makes a large part of the blinding effect disappear and driving becomes more relaxing.
Can I use these glasses during the day?
Yes. During daytime use, there are no limitations caused by this coating. It will work like a standard anti-reflection coated lens. It is at night when NightDrive shows its distinguishing characteristics.
Does this only work while driving?
Any situation with large light/dark contrasts will yield benefits to the user. E.g. in a cinema or a theater. The light and color effects will be easier on the eyes, resulting in a better contrast and more relaxed enjoyment of the presentation.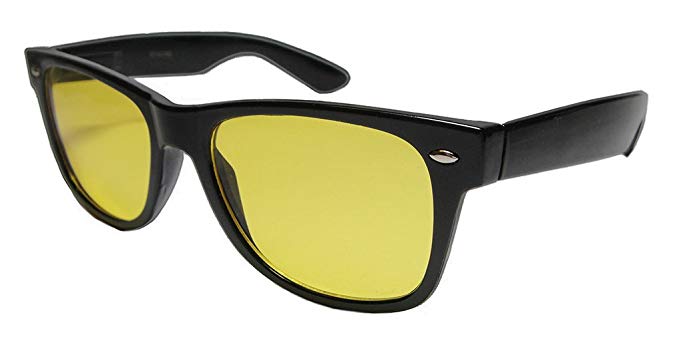 Yellow tinted lenses for night use are NOT a solution

In ads, I see yellow tinted lenses which are less expensive. Will these work?
Such 20% yellow tinted lenses make you see less, not more. The American Academy of Ophtamology and The Vision Council recommend against their use during night time driving.