Lens Index
When we speak of "index," we are referring to the refractive qualities of a transparent material. For example, when you put a straw in a glass of water, the straw appears to be bent. That is exactly what a refractive index is: the way light bends as it passes through the material.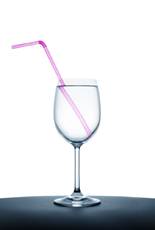 The effect of a refractive index is easily demonstrated by inserting a straw in a glass of water (refractive index of 1.33).
As the index number gets higher, the refractive power of the material increases. Water has a refractive index of 1.32, and a material with an index of 1.10 is less capable of bending light than water is. The same is true for lens materials; as the refractive index gets higher, the material is able to bend light more.
This is important because as the strength of prescription increases, lenses get thicker and heavier. For example: Roger has a prescription that calls for a -6 lens. If Roger orders this lens in a 1.50 index, it will be significantly thicker and heavier than a 1.67 index lens. Thus, as prescription increases, higher index material will provide thinner and lighter lenses, making the glasses more comfortable to wear and more attractive to look at.
We offer the following materials:
Standard Index 1.50
1.50 index lenses are made of a material called CR-39. These are great basic lenses with very good visual acuity (a high Abbe value). However, the mechanical properties of this 1.50 index lens are somewhat poor; these are great lenses in a full rim frame where the lens is supported on all sides, but in a semi rimless or rimless frame the material is prone to cracking.
1.53 Index Trivex
This material is an extremely light and impact resistant material. It is a great choice for semi rimless and rimless frames because of its tensile strength. This is the strongest lens material in existence and is therefore recommended for use in children's, sports and safety glasses.
Mid Index 1.57
1.57 mid index lens is a base lens, great for full rim frames where the lens is supported on all sides, but is not recommended for semi rimless or rimless frames due to its somewhat poor mechanical properties.
Video: Glasses for children, sports players and do-it-yourself-ers should be made from impact resistant materials like polycarbonate, Trivex or Xirm
Mid Index 1.58 Xirm
Xirm is a material with properties very similar to Trivex, thus making it a great choice for sports, youth, rimless and semi rimless frames. It has optical clarity far superior to polycarbonate, and is less expensive than Trivex, thus making it a top choice for impact resistant glasses.
High Index 1.59 Polycarbonate
Polycarbonate is a bulletproof material that is ideal for active use (such as for children, or use in sports or safety goggles). Its strength is second only to Trivex and Xirm, but is not indestructible, and the optical clarity (Abbe value) for this material is low.
High Index 1.61
Lighter and more comfortable to wear, 1.61 index lenses reduce the lens thickness of higher powered prescriptions. These lenses are great for all styles of frames (full rim, semi rimless or rimless).
Extra High Index 1.67
1.67 index lenses are appropriate for all styles of frames, and are great for strong prescriptions. Also, for higher prescriptions where the polycarbonate, Trivex and Xirm would result in lenses that are too thick, 1.67 index lenses would be a reasonable alternative for sports, youth or safety glasses.
Premium High Index 1.74
The lightest and thinnest plastic lens material currently available on the market. This material is only recommended for very strong prescriptions, and is not able to be tinted. 1.74 index lenses are great for full rim, semi rimless and rimless frame styles.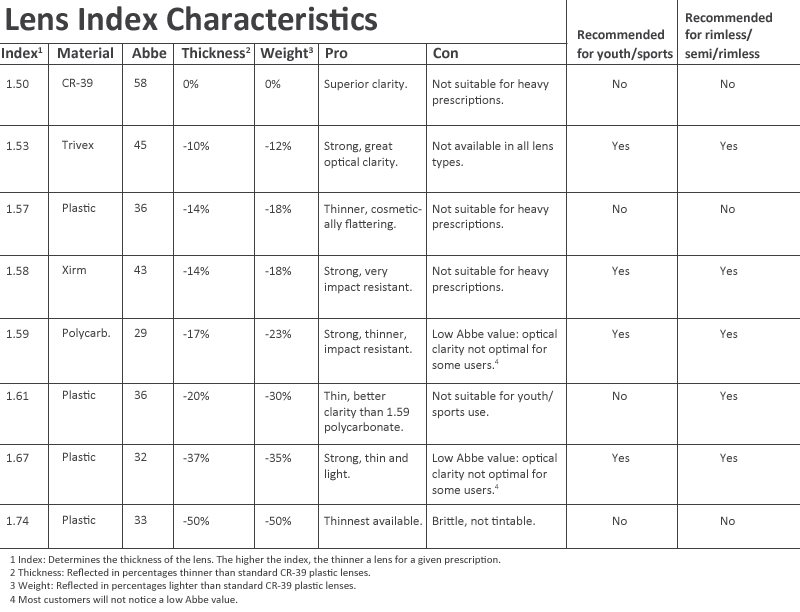 Click to enlarge image.
As you can see, we offer a wide variety of lens indexes. This may seem overwhelming; after all, you don't know how these lenses will look in your glasses. There is no need for worrying! Once you're ready to add lenses to your frame, you will answer a few questions and fill out your prescription information. Based on this information, we will show you the lenses that are recommended for your specific needs. And, most importantly, you can compare these lenses in our 3D lens viewer, which will tell you exactly how thick and heavy they will be in your chosen frame.
You may wonder why we don't just put a simple recommendation table on our website that shows you which lens index you should choose for your given power. This is because many details play a part in how thick your lens ends up being.
Our goal is to make shopping online for your next pair of glasses easy and convenient.