High Index Lenses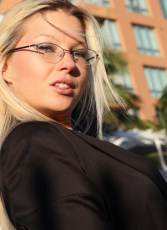 Thin lenses are more comfortable and more elegant than thick lenses.
People look more attractive in thinner glasses, and thicker lenses are perceived as old fashioned. Since less pressure is exerted on the skin, most people prefer to wear lightweight glasses. Thus, it is no wonder why people prefer to use the lightest and thinnest lenses possible.
High Index Lenses vs. Regular Lenses
Lenses in glasses bend light in order to correct refractive errors. The degree of correction and the corresponding glasses prescription is based on the doctor's assessment. Doctors will prescribe one of two lenses: a plus lens, denoted by a plus (+) sign in front of the number in the SPH category on a prescription, or a minus lens, denoted by a minus (-) sign in front of the number in the SPH category.
For plus lenses, power increases as the numbers increase. For example, a +2.50 lens is more powerful than a +0.75 lens. For minus lenses, it's opposite: power increases as the numbers get smaller. For example, a -3.25 lens is more powerful than a -1.75 lens.
As prescriptions increase, the lens will get thicker; minus lenses increase in thickness at the edges of the lens, whereas plus lenses increase in the center. Thick lenses, whether in the center or on the outer edges, tend to be heavy and make for an unattractive look.
Luckily, chemists have discovered new kinds of plastic lens materials that bend light more effictively than the traditional CR-39 plastic lenses used for eye glasses. This means that these lenses use less material to correct the exact same prescription, which in turn makes this lenses thinner and lighter. These materials are referred to as high index materials.
Advantages of High Index Lenses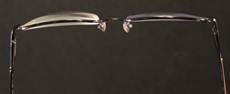 On the left, a standard index 1.5 lens is shown. On the right, a 1.67 index lens. Both lenses are the same power: +6.
Thinner – Lower index lenses, such as 1.5 index lenses, need more material to accommodate a prescription. High index lenses use less material to correct the same prescription, so the lenses end up being thinner.


Lighter – Since less material is needed to correct the same prescription, the lens will not only be thinner, but also much lighter. A lighter lens is much more comfortable to wear, since it doesn't exert excessive pressure on the nose of the wearer.


Variety – High index lenses come in many different types, meaning that there is a perfect lens out there for your prescription. We help make the decision process easy by providing you with our 3D lens viewer (to compare the thickness of 2 different lenses) and by making recommendations.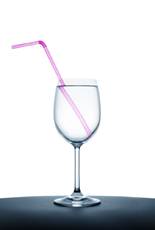 The effect of a refractive index is easily demonstrated by inserting a straw in a glass of water (refractive index of 1.33).
Refractive Index
Lenses are categorized and named according to their ability to bend light. A lens' light bending capacity depends on the material's refractive index, which is a ratio that compares the speed of light through the air with the speed of light that passes through a transparent material. Speed slows down as the material's ability to bend more light increases. The higher the lens material's index of refraction, the thinner the lens.
Standard CR-39 plastic has a refractive index of 1.50 and that of crown glass is 1.52. Other lenses are available in a wide array of refractive indexes, ranging from 1.53 to 1.74.

Lenses made from 1.67 index material are thinner than lenses made from 1.56 index material. Materials with 1.67 indexes or above are significantly thinner than traditional plastic lenses. High index materials are prominently used for stronger prescriptions.
Unfortunately, a higher index also means higher lens cost.
All these different types of lenses may be overwhelming, which is why we will make lens recommendations upon check out. When you enter your prescription on our website, our calculation software will automatically display your lens options best suited for you.
An AR coating is necessary to prevent bothersome reflections from bouncing off your glasses.
Anti-Reflective Coating
Every lens material blocks some light from passing through the lens. Night vision clarity is reduced and distractions are caused when light is reflected back from the surface of the lens. CR-39 plastic and glass lenses reflect around 8 percent of light, whereas higher index lenses can reflect up to 13% percent light from the front and back surfaces of the lens.
If you combine high index lenses with anti-reflective lens coating (AR coating), a high index lens can transmit up to 99.5% light, thus bringing more light to enter the eyes. AR coatings are essential for light reflection elimination in high index lenses. This is why we include AR coating (and 4 other coatings) as a standard with every lens purchased from Visio-Rx.