Everything About Sunglasses
Video: different types of sunglasses explained.
Shopping for sunglasses can be a daunting task. With all the different lens options out there, it's hard to keep them all straight. Don't fret; we've compiled a list of the options, so that you can make the best choice for sunglasses that suit you. And if you noticed that we do not have a separate sunglass section, it's only because we can turn any pair of frames into the sunglasses you've always dreamed of. Simply select the options you want upon check-out and we'll take care of the rest.
Tinted lenses: Tinted lenses are all one solid color. You can pick out any frame you want and we can tint most lenses in a variety of colors and % darkness; it all depends on your personal preference.
Gradient tinting: These lenses are dark at the top and fade to light at the bottom. Gradient tinting is very fashionable and we offer this style in several different colors on most lenses.
Video: benefits of Nupolar® lenses.
Polarized lenses: A lens with polarization helps reduce glare. We highly recommend upgrading to polarized lenses when purchasing a new pair of sunglasses, because these lenses are ideal for people who spend a lot of time outside or driving. The lenses filter out certain types of light; specifically reflections off horizontal surfaces such as the hood of your car, lake surfaces, and roads. We offer polarized lenses from Adnuo®, recommended for occassional use, and from Nupolar® by Younger Optics, recommended for intensive use.
Photochromic lenses: These lenses are clear indoors and turn into sunglasses when you step outside, as they are activated by exposure to UV light. Very convenient for people who don't like switching between their regular glasses and sunglasses all the time, since the lenses do all the work for you! Photochromic lenses are offered in several different tints. We offer various types of photochromatic lenses. A disadvantage of regular photochromic lenses is that these do not turn dark inside a car as the car's windshield blocks the UV light.
Video: benefits of Drivewear® lenses.
DriveWear® lenses: Ideal for people who drive a lot. DriveWear® was specifically developed to work inside a car. They can sense and react to different light conditions, causing the lens to transition to different colors depending on the lighting conditions: overcast inclement weather, bright day with blinding glares, or just bright lights outside the car. These photochromic lenses also include polarization, which provides glare protection. Never again will you have the fear of wrecking your car as you are driving into a setting sun; DriveWear® lenses will sense and eliminate both the brightness with the proper tint and minimize the glare through polarization so you can get to your destination safely.
Clip-on sunshades: Visio-Rx.com does not offer the outdated clip-on sunshades, because these put scratches on your lens where the clip-on meets the lenses. Too many customers have been unpleasantly surprised with this unintended effect and we have decided to not offer these.
Magnetized sunshades: The perfect solution to clip-on shades! These sunshades are attached to your frame by means of magnets, eliminating the scratches that traditional clip-on shades can create on your lenses. We offer magnetized sunshades for almost any frame, with an array of choices of solid and gradient tints. Simply search for "sunshades" on our website.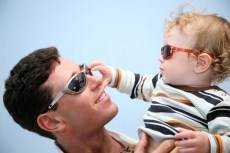 Children and parents alike can find the perfect pair of shades at Visio-Rx.com.
Children's sunglasses: Most parents know that it is not easy to get your children to consistently wear sunglasses when the sun is out. Yet it is very important because their eyes are more sensitive to UV radiation, as their young eyes are still developing. Some 80% of total lifetime exposure to UV rays takes place before the age of 18. Any pair of children's glasses can be turned into a pair of sunglasses by simply adding a tint upon check out. But, if you're afraid your child will forget to wear their sunglasses, then photochromic lenses are a great way to ensure complete protection of your child's eyes. The child is already used to wearing glasses, and protection will happen automatically as the lenses darken when they are outside.
Choosing the right pair of sunglasses for your lifestyle is important. Protecting your eyes is even more important. We know you have options when it comes to shopping for sunglasses, and we hope you choose us.