Tips to Find Frames You Will Actually Wear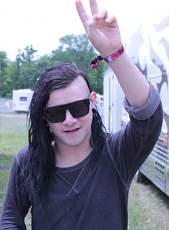 Dubstep producer Skrillex has made the "nerdy" style glasses even more popular than before.
Teenagers usually find it hard to pick out glasses because they are very meticulous about how they look. Choosing the right frame shape, color, and style can take hours. If you are one of the many teenagers out there who is in a dilemma of choosing which frames are appropriate for your eyes, face shape or complexion, have no fear. Shopping at home is easy, and you get to try on as many frames as you wish. Here are a few tips to help you get to the perfect glasses for you:
1. Make sure that the frame complements your facial features, including color and shape
Choosing frames is not an easy task. Your face shape is an important feature to keep in mind when looking for new glasses. Read more helpful information about figuring out your face shape and choosing compatible frames here.
As far as facial features go, keep in mind that the bridge of the frame can greatly affect how your nose and eyes will look. If the frame you choose has a clear, light colored, or thin bridge, close set eyes will look like they're set further apart. A colored frame bridge can make wide set eyes look closer together. If you have a long nose, choose a frame with a low bridge to give the illusion of a shorter nose.
Frame color should also be selected carefully. It should complement your skin tone, your eyes and your hair color. For detailed information about skin coloring, click here.
Thankfully you can try as many frames as you want, in the comfort of your own home, at your own pace, by using our Virtual Mirror. Why not ask a friend to help you decide while you're trying them on? It's easy with our Facebook voting system.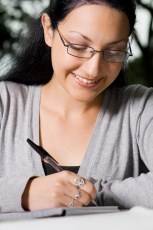 If your glasses fit well, you will wear them with a lot more pleasure.
2. Match your frames with your lifestyle
Purchase a pair for school, for dates, for parties, for prom, for homecoming, and for showing your school spirit. With our affordable prices, you can get a pair of glasses for absolutely any occasion and mood!
3. Look good with frames that fit properly
Imagine yourself wearing frames that are too large and continually slip down your nose. Irritating, right? Picking frames that are too large for your face will make your head look small. On the other hand if your frame is too small for your face, your peripheral vision can be limited, and your head will look wider than it really is. Ideally, frames should not be wider than your face.
When choosing a pair of glasses, you should make sure that your eyes are looking through the lens's center. Frames must not be tight to the extent that they leave marks or pinch your nose. They should not also be too loose because they may slip down your nose. Frame bottoms shouldn't be in contact with your cheeks. Finally, frames should be comfortable when clung to your ears. Uploading a few simple pictures to the Virtual Mirror will help us pre-adjust our frames to your face.
4. Quality always matters… Good thing you don't have to worry about that here!
Today, glasses are sold like pancakes. People are becoming more fashionable and trends are changing faster than ever. Finally, you can choose quantity AND quality. Visio-Rx only carries the highest quality frames and lenses. And with prices like these, you can get many pairs for the price of one pair at your local optician.