Teens, Good Nutrition and Vision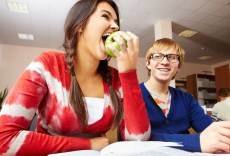 Eating healthy food is important for your vision.
Taking care of your eyes is as simple as taking care of any part of your body. All you need are the basics: nutritious food, exercise, and a healthy lifestyle. If you were prescribed glasses or contact lenses, wear them whenever you are supposed to. If you maintain all of these things, then surely you will have a healthy body as well as good vision. Good food is also key to having clear, lasting vision. Eating the right foods can provide you with fuel for your body which can contribute to healthy vision, and influence the function of your mind.
Vitamin A
You may know vitamin A as the very first name you see on multivitamin bottles. But it is more than just a label and a simple vitamin. Vitamin A is crucial in keeping your eyes healthy. Without vitamin A, you can have a cascade of deficiencies, including those that damage your eyes like night vision problems, severe dry eyes, eye infections, and even vision loss. According to research, vitamin A can also minimize the risks for macular degeneration and cataracts and can slow down the progression of vision loss among individuals with retinitis pigmentosa.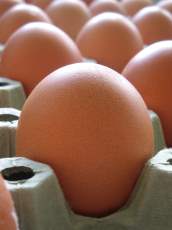 Eggs are a good source of vitamin A.
Moreover, vitamin A plays an important role in your bone growth and helps prevent the symptoms of pink eye and some other infections by boosting up your immune system. How much vitamin A is needed daily? As suggested by US Recommended Dietary Allowance (RDA), teen girls need at least 700 micrograms of vitamin A while teenage boys need 900 micrograms.
Good sources for vitamin A are liver, chicken, eggs, milk, and beef. It can also be indirectly obtained from vegetables and colorful fruits with carotenoids. Nonetheless, too much vitamin A can be harmful to the body and can cause symptoms like loss of appetite, skin changes, dizziness, and joint pain. Make sure not to exceed to 2800 micrograms per day. When it comes to taking supplements, you should be careful. Some may contain high levels of vitamin A and can increase risks for toxicity reactions.
Carotenoids
Other good nutrients for your vision include fruits and vegetables with orange, red, and yellow pigments. These are called carotenoids, and are most commonly found in the forms of alpha and beta carotene, lutein, lycopene, and cryptoxanthin. Carotenoids are also known as phytonutrients which is derived from plants: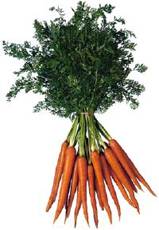 Carrots are a great source of (you guessed it) carotenoids.
Provitamin A Carotenoids – These are made up of beta-carotene, alpha carotene, and beta cryptoxanthin. These carotenoids are converted by the body to vitamin A during digestion. Two carrots a day can provide you with enough carotenoids every day.
Zeaxanthin and Lutein – These carotenoids are also important to the eyes because they can help in the protection against retinal damage due to harmful UV rays. Prolonged exposure of sunlight to the eyes results in higher risks for macular degeneration. Researchers suggest that both nutrients can also help minimize the risks of macular degeneration. Zeaxanthin and lutein are plant pigments that are naturally occurring. These can be found in dark green leafy vegetables such as spinach, kale, broccoli, lettuce, bell peppers, tomatoes, squash, and many others. Eggs can also be a good source for these nutrients. There may be no RDA for these nutrients but nutrition experts suggest that 6 to 10 milligrams is enough for great eye health.
Lycopene – this is another vital carotenoid needed for good vision. It is the pigment that makes a tomato red. The more lycopene is present, the redder the tomato will be. Other than tomatoes and tomato juice, great sources of lycopene include pink grapefruit, blood oranges, and apricots. According to research, lycopene can reduce risks of eye disorders like cataracts and macular degeneration and can also lower the risk of some cancers like prostate cancer, lung cancer, and cervical cancer.
Vitamin C
Oranges are packed chockful of vitamin C.
Also known as ascorbic acid, vitamin C is a water soluble vitamin and a very powerful antioxidant. This can be found in many vegetables and fruits. The best sources for vitamin C include grapefruit, broccoli, oranges, apples, and bananas. A freshly squeezed glass of orange juice alone has more than 100% of your RDA of vitamin C. Moreover, vitamin C is vital to the eyes, because it can minimize risks of macular degeneration and cataracts. RDA for teen girls is 65mg and 75mg for boys. After the age of 18, RDA is increased to 90mg for men and 75mg for women.
Vitamin E
This vitamin aids in the production of red blood cells, and can help reduce the risk of cardiovascular disease. Almonds, hazelnuts, avocados and sunflower seeds are great sources of vitamin E. Studies also report a reduced risk of cataracts and macular degeneration in connection with vitamin E. The RDA is 15mg for both teens and adults alike.
Start Good Habits at a Young Age
During your teenage years, a healthy diet is very important for keeping muscles and bones strong and keeping you alert. Apart from providing you with all the energy you need in school, work, sports, and daily activities, a good diet plays a crucial part in the maintenance of healthy vision. Starting the right eating habits while still young can help you see better, as well as have a healthy weight all the way to adulthood and can also minimize risks of certain eye problems, such as macular degeneration, diabetic retinopathy, and cataracts.