Teens and Sunglasses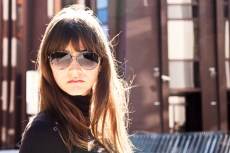 When selecting sunglasses, make sure the lenses block 100% of harmful UV rays.
Today, sunglasses come in a variety of shapes, and colors. It may be fun to try the newest fad in sunglasses, but you should remember that sunglasses are not just fashion accessories. Sunglasses should be worn whenever you are outside to protect your eyes from harmful UV rays. This is only possible when the lenses in your glasses have 100% UV protection, so make sure to select the coolest possible glasses that also offer UV protection. Thankfully, doing so is easy here at Visio-Rx; all our lenses come are treated to block 100% of UV rays.
If you love the outdoors, you need to wear sun glasses regularly. Too much exposure to the sun's harmful ultraviolet rays can cause sunburn and can contribute to eye problems that remain asymptomatic until you become older. A number of studies suggest that UV rays can cause eye problems such as cataracts. A study conducted among 838 fishermen discovered that those who were not wearing sunglasses or hats had 3 times higher rate of cataracts than those who wore protective gear.
Cornea damage can happen from exposure to too much UV radiation. Your eyelids, too, are at risk. Just like the rest of your body's skin, your eyelids are susceptible to skin cancer caused by harmful UV rays.
Are Sunglasses Needed in Cloudy Weather?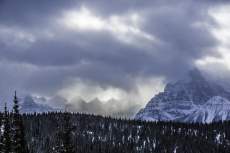 UV rays can pass through clouds, so sunglasses should still be worn even in overcast weather.
Even in cloudy weather and during the winter months you still need the right kind of sun glasses. The rays of the sun may not be as intense on cloudy days but they can still harm your eyes. UV rays can simply pass through the clouds, which is why it's still vital to wear sunglasses. Also, snow reflects sunlight, which can have harmful effects on your eyes if you do not have proper protection.
If you wear contact lenses every day, do not forget to wear non-prescription sun glasses with them. Other than blocking ultraviolet rays, you also have to ensure adequate protection of your whole eyes from the wind that can cause dryness to your contacts. Sunglasses can keep away debris and keep windblown dust from sticking to your eyes. So, even if you have contact lenses that block UV rays, wearing sunglasses will ensure overall eye protection.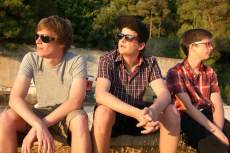 Gray and brown are the most popular sunglass colors.
Sunglass Lenses
Sunglass lenses matter a lot when it comes to choosing sunglasses. In order to ensure adequate protection for the skin and eyes, you need to select sun glasses that can totally block off the sun's harmful rays. This is done with a UV protection coating, and is included free of charge on all lenses we sell at Visio-Rx.
The color of the lens is separate from UV protection. Choosing a color is really a matter of preference. For example, gray colored lenses are commonly used and preferred by many because they offer natural vision with minimal color distortion. Brown lenses are also a good choice, though brown may slightly alter color vision and enhance contrast at the same time. These lenses are great choices for driving and other activities that necessitate acute vision. Apart from gray and brown, there are a lot of other colored lenses sold such as amber, rose, blue, and green. However, keep in mind that some lens colors can alter color perception, which can be dangerous when you're looking at traffic signals.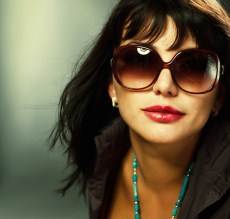 Gradient tinted lenses are high fashion.
When choosing sunglasses, you also need to keep darkness into consideration. Bright sunny days near the water may require you to wear extra dark lenses. When driving in conditions where clouds are gloomy, you may need to wear shades with lighter tints. Just like lens color, UV protection does not depend on lens darkness. Since all our lenses have 100% UV blockage coating on them, choosing the level of darkness is totally up to you.
Other than lens tint color and density, lenses are also available in different materials. Polarized lenses are perfect when it comes to minimizing light reflection glare such as the bouncing back of light off glass, snow, sand and water. Polarized lenses have special filters in the lens material that can significantly block off reflected light, and are ideal for people who spend a lot of time boating, snowmobiling, hiking or doing anything else outdoors.
There are also photochromic lenses that get darker when you go outside and convert back to clear upon returning indoors. These kinds of lenses offer 100 percent UV protection and can let you go outside without switching to another pair of glasses. However, these kind of lenses need to have UV exposure in order for it to darken, so when you are driving these glasses stay mostly clear. Additionally, gradient lenses are other choices that you can have when selecting sunglasses. These lenses change from dark at the top to light at the bottom. Solid tinted lenses are also available.
No matter what you decide for your sunglasses, if you shop here at Visio-Rx we guarantee that your eyes will be protected and looking stylish.