Teens and Contact Lenses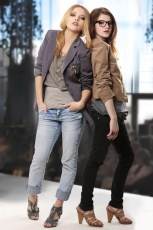 Both contacts and glasses can be a fashion statement; choosing between the 2 is extremely personal.
It is no doubt that contact lenses are the more convenient option for teenagers. They provide the freedom to let you play sports without having to invest in a special impact resistant pair. But making the decision between contacts or glasses can be tricky. Both have their advantages and disadvantages and the question remains – "As a teen, are contact lenses preferable to glasses or the other way round?"
Upsides to Contact Lenses
A study by the Contact Lenses in Pediatrics group revealed that most teenagers end up feeling better about themselves and perform better in sports with contact lenses. They also felt contact lenses are easy to care for – which is one big factor many parents should consider before getting one or the other for their kids.
Generally, contact lenses are more convenient than glasses. Most times you do not feel you have them in and, unless they are tinted or colored, friends may not know either.
Downsides of Contact Lenses
Because contact lenses sit directly on the eyes, they require regular cleaning using contact lens solution or drops. This helps to prevent dirt and protein build up from taking place. In places exposed to frequent harsh winds, there is usually a higher probability of such winds carrying dust to the lenses.
Also, your contacts have to be cleaned on a regular basis to prevent infections. And some teens forget to take their contacts out all together, which can lead to problems.
Aside from these, it is unlikely using contacts is a bad choice to remedy a visual problem.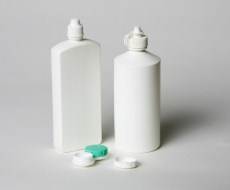 Contacts have to be cleaned regularly to prevent eye infections.
Choosing Contact Lenses
Contact lenses come in a variety of types:
Rigid Gas Permeable Contact Lenses or RGP contacts are designed to allow oxygen reach the eyes. Over the years, they have replaced hard impenetrable lenses. Such gas permeable lenses are a bit more expensive but lessen the chances of catching contact lens related eye infections. They are preferable especially for younger individuals who are more likely to wear their contacts for longer periods than recommended by a doctor, and for individuals who forget to maintain them.
Soft Contact Lenses are the most common type of contacts. They are incredibly comfortable and adaptable even for people with sensitive eyes. Soft contacts are used to correct nearsightedness and farsightedness in children and adults.
Hybrid Contact Lenses deliver both advantages of soft and gas permeable contact lenses. Hybrid lenses are designed with a gas permeable central zone to let in air with the center surrounded by material used in soft lenses for greater comfort and better adaptation. Due to their complex makeup, hybrid lenses are more expensive than both soft and RGP lenses.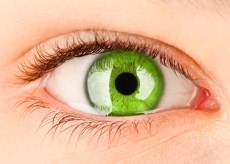 Colored contacts can drastically change your eye color.
Contact Lenses with UV Protection are mostly soft contact lenses offering a shield from the sun's ultraviolet rays. If you spend a lot of time outdoors, you might want to wear these lenses, combining them with sunglasses to shield the entire eye.
Colored Contacts are mostly designed for disposable or daily use. Such contacts may feature special tints or styles to change the color of the eyes or sometimes impose a certain art on them.
How to Clean Contact Lenses
No matter the type of contacts you choose, it is very important to keep them clean. Disposable contacts are usually meant to be worn and disposed of after a single day or week. All other contact lenses must be cleaned via an enzymatic cleaner recommended by an eye doctor for use.