Safe Toys for Healthy Eyes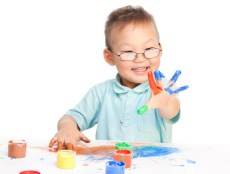 Children are visually stimulated and tend to favor bright colors.
Your eyes, as well as anybody else's, are very fragile parts of the body. Getting it hit or accidently getting something in the eye is easy. Nonetheless, protecting them can also be an easy task.
Children have visual systems which are underdeveloped when they're born, and that grows with them. During their development years, children are stimulated visually.
Toys are the best tools that can help stimulate children's vision. Toys are very much needed in their formative years and can help their minds grow effectively. Regardless of how important toys are, it is also essential for every parent to choose the right toys. This means that toys should be age appropriate and safe for the eyes as well.
Choosing Appropriate Toys
When buying toys for children, make sure they are age appropriate and developmentally precise. Toys with smaller pieces are usually designed for children ages 3 and up. However, if a 3 or 4 year old still loves putting small toys in her mouth, then they are not developmentally concise for him or her. The size of toys greatly matters. If a toy is big but can still be manipulated into the mouth of the child then it is best to put it away for the time being.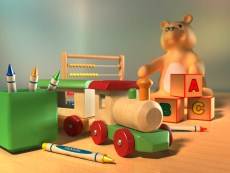 Regardless of what kind of toys you purchase for your child, make sure that they are of sturdy quality.
Parents should make sure that their children's toys are strong enough not to fall apart during play. Double checking is crucial prior to purchasing any toy. This includes checking for finishes and paints that are non-toxic and unlikely to peel off. If flakes enter a child's eyes, he may be at risk for eye damage. Furthermore, stuffed toys for children need to be machine washable and, for younger children, these toys should not have small pieces to pull off easily like ribbons, buttons, and beads.
Always avoid toys with rough or sharp pieces. Additionally, children who love playing with toys that have long handles, like pony sticks, should never be left unsupervised. Toy blocks are safe for children for all ages but parents should make sure that the blocks have blunted edges in order to lessen the risks for eye injuries.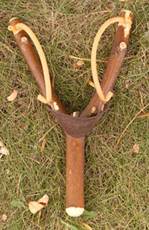 Slingshots should only be used by children with parental supervision.
What Toys to Avoid
There are toys that are just too dangerous for children to play with when they are unsupervised. This includes toys that shoot out objects in the air like pellet guns, dart guns, bow and arrows, and sling shots. Even when most toys these days are made out of rubber or plastic, toys like these can still cause a great deal of damage when it gets into a child's eyes. If children are fond of playing these games, then it is best to supervise them.
Some older children love playing with woodworking tools or chemistry sets. In order to protect their eyes they need to wear safety goggles. More importantly, all chemical products should be stored in a child safe cabinet or container.
What are age appropriate toys?
As mentioned before, children need to play toys which are appropriate for their age. This not only stimulates their development but their visual progress as well. This in turn can stimulate good hand-eye coordination as well as comprehend spatial relationships. We have provided a table with some suggestions for appropriate toys for children of different ages:
Toys for newborns until 12 months old

Colorful rattles
Stuffed toys
Activity gyms
Stacking toys
Board books
Riding toys
Musical toys
Shape sorters

Toys for 2 year olds

Modeling clays and finger paints
Drawing boards
Pouring toys like measuring cups
Riding toys and puzzles with big pieces
Child sized household toys
Magnetic letters
Gym activities



Toys for 3 to 6 year olds

Large markers and crayons
Musical toys
Tricycle
Swings
Climbing toys
Toy computer games
Board games
Kiddie pool

Toys for 7 to 10 year olds

Crayons, markers, books
Dress up clothes and dolls
Musical instruments
Jump rope
Telescopes and microscopes
Roller skates, bicycles and skateboards
Educational computer games


You can ask your child's pediatrician about more safe and age appropriate toys that you can buy.

See our landing pages.