Learning Related Vision Problems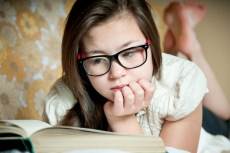 80% of what we learn in school is visually represented.
Experts believe that 80 percent of what children learn in school is comprised of visually presented information. Therefore, clear vision is necessary for students to reach their full potential. If children have trouble in school, often times they have problems with their vision. Contact lenses or glasses will help kids see the board or projection screen in the front of the classroom, or read their text books in front of them.
Diagnosing simple errors in refraction is the initial step towards ensuring that your child is visually prepared for school. However, conditions such as astigmatism, nearsightedness, and farsightedness are not the only problems that can hinder appropriate learning. There are other, more obscure vision problems that can reduce your child's capability to learn.
Any problem in vision that has the ability of affecting academic as well as reading performance among students is considered a learning-related vision problem.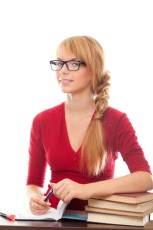 A person with learning related vision problems can succeed academically if proper treatment is sought from both a psychologist and an eye doctor.
Learning Disabilities
Learning disabilities and learning related vision problems are not the same thing. The Individuals with Disabilities Education Act (IDEA) specifically states that a learning disability is a disorder in 1 or more of the fundamental psychological processes needed for comprehension of language, written or spoken, and that they show a flawed capability to think, listen, read, speak, spell, write, and calculate. IDEA added that other conditions related to the disorder of psychological processes include brain injury, perceptual disabilities, minimal brain dysfunction, developmental aphasia, and dyslexia.
Moreover, IDEA also stated that learning disabilities do not cover problems in learning that are mainly because of motor, hearing, and visual disabilities. This excludes emotional disturbances and mental retardation, together with problems in learning associated with economic, cultural, and environmental disadvantage. Given IDEA's inclusion of learning disabilities, it is safe to say that learning related vision problems are not related to any psychological disorder.
However, this does not mean to say that those with vision problems cannot have learning disabilities. There are certain vision problems that can contribute to children's learning problems, regardless if he or she is diagnosed with a learning disability. Therefore, children who are academically struggling may have learning disabilities, learning related vision problems, or both.
Getting your child checked by an eye doctor and a school psychologist is a great way to start the search to identify the underlying cause of his or her academic problems. By identifying the root cause of learning problems, the hope of treatment increases.
Video: How myopia affects a person's vision.
Kinds of Vision Problems That Can Hinder Learning
Seeing is an intricate process that involves the eyes and the brain. Learning related vision problems can be categorized into three types:
Refractive problems are some of the most common visual troubles. This is a problem that can greatly influence the acuity of your eyes and can be measured by an eye chart. Refractive errors include farsightedness (hyperopia), nearsightedness (myopia), and astigmatism. Refractive problems can lead to low vision if left uncorrected, which permanently decreases visual acuity that can't be corrected by traditional contact lenses, eye glasses, or refractive surgery.
Perceptual visual problems consist of problems with comprehending and identifying what you see as well as judging its importance and linking it to some stored information in your brain. This means that if you have a problem with visual perception, you will not be able to recognize words that you have previously seen.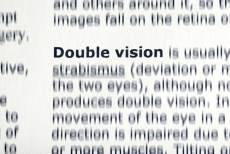 Double vision can be a sign that you have visual learning problems, and should be checked out by a doctor.
Functional visual problems refer to a series of specific eye functions and the neurological condition of these functions like eye teaming, accommodation, and fine eye movements. Problems in visual functioning can cause double or blurred vision, headache, and eye strain.
Learning Related Vision Problems Symptoms
Some of the most common symptoms include blurred vision, eye strain, head aches, crossed eyes, tilting head to see object with one eye only, short attention span when doing visual related tasks, excessive rubbing of eyes and blinking, reading with eyes too close to the material, and using fingers as a guide while reading print. Other symptoms include difficulty remembering what has been read, repeating or omitting words, difficulty identifying and remembering shapes, and persistent reversal of letters or words after 2nd grade.
Learning problems can also lead to low self esteem and depression. Therefore, seeing an eyed doctor is essential to rule them out.
How Learning Related Vision Problems Can Be Treated
If your child has visual learning problems, he or she may usually be treated with doctor supervised vision therapy programs which are highly individualized. Most of the time, your child may be prescribed with glasses for full time wear or for specific tasks only, such as for computer use or for reading.
In some instances, vision therapy as well as activities geared towards remedial learning can be mixed into the treatment. This can help address your child's learning troubles using the best approach.