Kids and Computers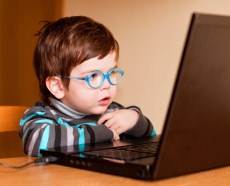 Studies have shown that children who used educational software were more prepared than children that only used a Head Start curriculum.
These days, children and computers are best friends. Parents are asking themselves questions like: Are computers bad for my child's eyes? Could extensive computer use possibly affect his performance in school? Is it essential for kids to wear computer glasses in school?
Computers Help Prepare Children for School
The good news is that research has discovered that preschool children who are already using the computer are more prepared for academic achievement. In a study with 122 preschoolers, children in the experiment group were asked to use the computer for 15 to 20 minutes a day. They were only allowed to interact with educational software that is appropriate for their developmental age. The children in the control group were not using the computer and received a Head Start curriculum. Six months later, all of the students were assessed with their visual motor and gross motor skills, cognitive development, and school readiness. The study showed that those who used the computer with the software did better in terms of cognitive development and school readiness, as compared to those who did not use computers at all. Moreover, those who were doing computer work both at school and at home had better academic performance than children who only use computers in school.
Video: Information from the American Optometric Association on children, computer use, and how it can affect their eyes.
Computers and Risks
Socrates said: "Everything in moderation, nothing in excess". This also rings true for computer use among children. Just like adults, children who love spending numerous hours with their computer have more risks for having problems with computer ergonomics and computer vision syndrome (CVS).
A number of eye care professionals specializing in children's vision believe that children who use computers for longer periods are at greater risk for myopia. This is why parents should have rules for their kids when it comes to the amount of time spent using the computer.
How to Reduce the Risk of CVS and Ergonomics Problems among Children
In order to minimize the risk of CVS, as well as computer ergonomic problems, parents can take some simple measures. This includes ensuring that children are seated in a neutral posture and in a comfortable manner when using the computer. There are various characteristics in posture. Here are some ways to correct children's posture while using the computer.
Children and adults alike need assume good posture while using the computer to prevent head and muscle aches.

The head should be well balanced, and the neck should not tilt forward or backward. Computer monitor should be positioned about 10 to 15 degrees below eye level.
Back should be straight with shoulders relaxed. Children should be reminded not to slump towards the keyboard.
Hands need to be level with the forearm with the wrists slightly bent. Forearms should be flat on desk and elbows should form a 90 degree angle.
Feet must be flat on floor or if child cannot reach the floor, a footrest tall enough to form a 90 degree angle for the knees should be provided. Legs should not be tucked under the chair.
Apart from these correct postures while using the computer, experts also suggest that children (and adults) should stand up and stretch every 20 to 30 minutes of computer use. This can help get rid of muscle tension.
How Myopia Caused by Computer Use Can Be Minimized
Heredity may be the known as the culprit behind myopia among children, but research has discovered that eye strain caused by computers can also be a probable cause.
Just like every other organ in the body, the eye also has to exert a large amount of focusing effort. The fatigue caused by excessive focusing can lead to the onset of myopia, according to some researchers. Focusing letters and images on the computer screen is more stressful than looking at print.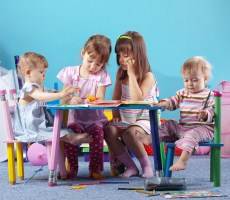 Studies have shown that children who used educational softward were more prepared than children that only used a Head Start curriculum.
In order to lessen the risk of fatigue caused by focusing and to prevent nearsightedness among children who spend a lot of time on the computer, eye doctors suggests frequent breaks for stretching and moving the eyes around. Other experts coined a term known as 20-20-20. This means that your child should take his eyes away from the computer every 20 minutes and then look at an object which is 20 feet away for 20 seconds. This is an easy exercise for the eyes that helps the eye muscles relax. Computer glasses can also be great remedies for preventing eye strain.
How Can Computer Use Among Children Be Monitored?
Parents should keep in mind the importance of monitoring their children when using the computer. See to it that such technology does not replace any educational activities and tools such as books, arts, music, outdoor exploration, and playing physical games with other children. Learn how to guide your children and answer questions while interacting with them while they are working on the computer.