Introduction to Kids and Their Vision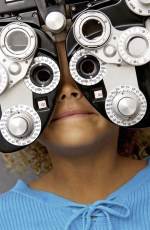 Get your child's eyes checked before he or she starts school to increase their chances of success.
In order to excel academically, children should have an eye exam to check for vision problems prior to starting school. If eye disorders are detected early in life, they can be treated so that children can perform well in school and sports, and can interact properly with other people.
Vision is undeniably one of the most crucial of the five senses. From infancy up to late adulthood, it plays a huge role in making the most out of life.
Even as babies, there are vital hallmarks of vision development. In the first few months of life, a baby can only maintain their focus on objects that are up close and that are in high contrast colors like red, white, and black. When a child reaches six months old, visual acuity becomes sharper, with more precise color vision and eye movement as well as skills in hand-eye coordination.
At this time, parents should have their infants examined by an eye doctor or pediatrician in order to ensure that their eyes are working as a team during their critical formative period. If any problems in vision are not detected early in life, a child could suffer a lifetime of bad vision.
Here are some questions that parents should ask themselves concerning their children's vision.
When should I get my child's eyes tested?
What common tests are included in a comprehensive eye exam for children?
If my child has vision problems, will it improve or worsen as he or she gets older?
Can learning be affected by vision problems?
Do I need to worry about how my child's eyes are affected with computer use?
Parents need to be informed about options for vision correction, like using the right eye wear for their children when they're playing sports, and using contact lenses if glasses are not preferred by the child. It is also essential for every parent to understand the importance of having children wear sunglasses.
Parents should teach their children how to take care of their eyes and remind them to voice any problems concerning vision changes. Staying up-to-date on new technologies is also recommended.