Eye Exams for Kids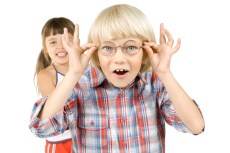 Getting your child's eyes checked is an important part of getting them ready for school.
As parents, you may sometimes ask yourselves if your preschooler has any eye or visual problems. If you are curious about this matter, you should schedule your child for an eye examination. Just like adults, children, too, need to have their eyes checked; 10 percent of preschoolers and school aged children have problems with their vision already. The earlier the detection of vision related problems, the easier it is to treat. Besides, your child will respond better if the solution is presented early in life.
The American Optometric Association (AOA) suggests that children as young as 6 months old need to have their very first eye examinations. When they reach age 3, they need to undergo additional tests, and again before starting the 1st grade (age 5 or 6). The AOA also suggests for school aged kids to have eye exams every two years, even if no visual correction is necessary. Children who are in need of contact lenses or eye glasses should be examined yearly or according to an eye doctor's recommendation.
There are some states in America that require eye exams for children entering school for the first time. Children need good eye sight in order to excel in school and at home. These skills include distance and near vision, focusing skills, eye movement skills, hand-eye coordination, proper eye teaming, and peripheral awareness.
The Importance of Scheduling Children's Eye Examination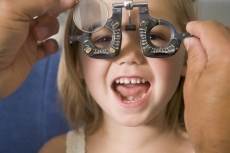 It's easier to test your child's eyes when she is rested and happy.
The first doctor to examine your children's eyes should be the pediatrician or family doctor. If they suspect any eye problems during routine physical exams, they can refer your child to an eye expert to further evaluate the problem. Eye doctors have certain tools, along with proper training, to assist them in identifying and diagnosing probable or existing problems in vision.
Upon scheduling an eye exam for your child, you need to be sure to choose a time when he or she is active and happy. How these examinations are conducted depends on your child's age, but usually the tests include a comprehensive eye and health history, vision testing, eye alignment tests, prescription of glasses and evaluation of eye health.
When you set an appointment with the eye doctor, clinic secretaries may mail you a form asking about the child's health history or you may be given one when you visit the clinic. The history usually involves your child's prenatal history as well as complications experienced by both mother and child during pregnancy and birth. Current medications and allergies are also noted on your kid's history.
When stating your child's health history, never forget to miss out on important details concerning his or her health. Tell the doctor if any of the following apply to your child:
If your child exhibits signs of headaches or problems focusing, he should have his eyes checked.

Born premature
Late motor development
Failure to retain eye contact
Constantly rubbing his or her eyes
Blinking excessively
Fixation or gazing problems while looking at objects
Poor skills when tracking things
Failed vision screening tests in school or during a trip to the pediatrician
Family history of eye related disorders which need vision correction like refractive errors (such as near- or farsightedness), strabismus or lazy eye, and other eye diseases.
Infant Eye Tests
As mentioned before, children as young as 6 months need to undergo preliminary eye exams. Babies need to be able to see well, since seeing is a crucial part of development. In order to fully assess whether your infant's eyes are developing normally or not, the doctor will perform a few tests, including:
Pupil response test – this test evaluates if your infant's pupils constrict and dilate properly.
Fixation tests – this tests identifies whether your infant's eyes can fixate and follow objects as they move from one direction to another. Infants must be able to fix their gaze at an object after birth and follow it by 3 months.
Preferential looking – this test includes the use of blank cards on one side with stripes on the other side. This attracts an infant's gaze to the stripes. This way the infant's visual capabilities can be evaluated without the use of a traditional eye chart.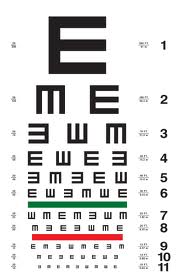 Since young children aren't yet able to identify the whole alphabet, a tumbling E chart is used for gauging their visual acuity.
Preschool children's eye test
Pre-school aged children do not need to know their letters in order to complete eye tests, so do not hesitate to take your preschooler to the doctor. Common eye exams that are especially created for young children include:
Retinoscopy – In this test, the doctor shines a bright light into your child's eyes and then observes for reflection from the retina. This is an exam which helps identify eye glass prescription.
Tumbling E Chart or LEA symbols – This is similar to the Snellen's eye chart for adults. A tumbling E chart shows the letter "E" in various positions. The LEA symbols chart uses symbols like a house, an apple, and other shapes instead of letters.
Random Dot Steropsis – This test includes a special dot pattern and 3D glasses, which measures how well your child's eyes work as a team.
Apart from eye problems like far- and near sightedness and astigmatism, school children also experience other vision problems.
Amblyopia ("lazy eye"). Children who have this condition have one eye that is weaker than the other. This can lead to decreased vision in either one or both eyes. Amblyopia cannot be corrected with only contact lenses or eye glasses. Your kid may need eye patching or surgery to make the weak eye stronger.
Strabismus. This is the misalignment of the eye, also known as "crossed eyes." This can have a series of causes including poor muscle control in the eyes. Strabismus is the most common cause of amblyopia and has to be treated as early as possible in order for cooperation of the eyes to develop normally.
These are just some of the common eye disorders that your child might have. Submitting your children to regular comprehensive eye examinations in order to check for any vision problems is important. Regular vision tests can help improve your child's performance in school.