Can We Slow the Progression of Myopia in Kids?
What is Myopia?
Commonly called nearsightedness, myopia is a problem among children these days. It is associated with a difficulty in distance vision, which can hinder school based learning and other important daily activities. As children grow, their condition often worsens over time. This is called progressive myopia.
How Can We Slow the Progression?
There is no way to completely stop the progression of myopia, but there are several ways that have been researched and that may have some effect on slowing the progression down. Some examples are the use of undercorrecting myopia, atropine drug therapy, rigid contact lenses, and corneal reshaping.
Undercorrection
Doctors have tried to undercorrect nearsightedness with the hope of minimizing strain from near focusing, which by some is thought to be one of the causes of progressive myopia. This idea has not been supported in a recent study: researchers found that there is no noteworthy difference between those who were undercorrected and those who were fully corrected.
Video: the strains of near vision and accommodation explained.
Correction of Myopia Evaluation Trial (COMET) is a study that tested the idea of wearing progressive eye glasses to reduce the focusing effort that is needed for near vision. The study found out that, as compared with regular single vision glasses, progressive lenses helped slowed down the progression of myopia in the first year. However, there were no significant effects over the next 2 years.
Two other studies suggested that undercorrection may actually increase the rate of progression. Thus, it is safe to conclude that undercorrection is not a proven tactic for slowing down progressive myopia.
Atropine

Another way to help control myopia is through atropine drug therapy. Studies have indicated that eye drops with atropine can minimize the progression of myopia through the temporary paralysis of the eye's focusing muscles, which has an effect that it widely dialates the eyes).
If this is the case then why is it not used to treat myopia among children? Generally, atropine's ability to paralyze focus and dilate pupils can lessen a child's capacity to perform well in school and sports due to increased light sensitivity. And pupils that are constantly dilated look odd, giving kids problems fitting in.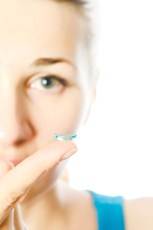 Rigid contacts may help temporarily relieve the progression of myopia, but cannot cure myopia completely.
RGP Lenses
Through the years, studies have indicated that myopia can be controlled if a person wears rigid gas permeable (RGP) lenses. The idea is that these lenses will serve as splints to reinforce and strengthen the front part of the eye without affecting the corneal shape in general. These lenses can reduce the progression of myopia in contrast with soft contact lenses or eye glasses.
Also, the Contact Lens and Myopia Progression study (CLAMP), funded by the National Eye Institute, followed the progression of myopia in over 100 children ages 8 to 11 years old. Some of them were asked to wear RGP lenses while some wore soft contact lenses. Researchers measured their visual acuity and their eye's physical growth, since myopic people usually have eyeballs that grow longer than normal eyeballs do.
The study showed that those who wore RGP contact lenses had less of a progression of myopia on a temporary basis. Those who wore soft lenses experienced continued growth of their eyeball. The conclusion was that the RGP lenses may slow down the progression of myopia but it cannot offer permanent reduction of myopia.
The hardest part about proving the advantage of RGP lenses is providing a control group for years that live the same exact life style.
Corneal Refractive Therapy
Another option for controlling myopia is through a procedure called corneal reshaping with corneal refractive therapy (CRT). CRT requires you to wear special contact lenses at night for corneal reshaping and correction of nearsightedness. Normally, you're asked to wear these lenses while you sleep in order to see clearly to the next day without the lenses, but if you stop using the lenses you will eventually end up with the same degree of myopia that you started with.
There are still a number of studies being conducted for myopia control in both adults and children. Nonetheless, the simplest way to control myopia is early detection. This is why you need to have your child's eyes checked regularly.