Babies and Vision Development
Watching your child opening his or her eyes and making their very first eye contact with you is probably one of the best moments you will ever experience.
Your child's vision does not fully develop for several months. This is why, if you are expecting a baby or if you have a newborn, you need to know the milestones of his or her visual development in order to ensure that your little tike's visions is undergoing normal development.
Pregnancy is the Beginning of the Development of Your Infant's Vision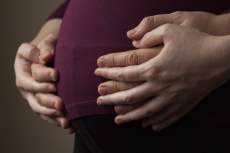 Vision development starts during pregnancy.
Even before birth, your child's vision is already developing. How a mother takes care of her body while pregnant is very important for the development of the baby, including the eyes and the parts of the brain which controls vision. If you are pregnant, make sure to take your OB/GYN instructions seriously. This includes no smoking and no consumption of alcohol or drugs, as these can inflict a multitude of health problems upon your child.
Over-the-counter fever reducers, such as aspirin or ibuprofen, can be dangerous to the fetus, as this increases the risk of low birth weight risks and delivery problems. Children delivered with low birth weight have been found out to have increased vision problems during infancy.
Immediately after birth, the pediatrician routinely examines your infant's eyes in order to rule out any congenital cataracts and other eye problems. These problems may be rare, but if present need to be treated right away to minimize the impact to your child's vision development. Moreover, right after birth, nurses usually apply an antibiotic ointment to your baby's eyes in order to help prevent infection to the eyes from bacteria in the mother's vaginal canal.
Newborns can typically see black, white and shades of gray only, because brain and retinal nerve cells that control vision are not yet finished developing. A newborn's eyes don't have the capacity to accommodate or focus on objects that are near yet. Apart from these limitations in vision, studies demonstrate that a few days after a child is born he or she prefers looking at the mother's face over anything else. This inclination greatly relies on high contrast and large stimuli such as a mother's hairline to her face. This is why mothers need to promote visual interaction with their newborn and should avoid drastic changes in appearance.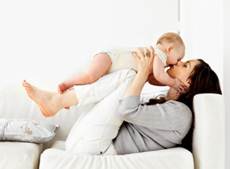 Keeping your appearance consistent will help promote bonding with your baby, as he or she will be able to recognize you.
One Month Old Baby's Eyes
During this time, your baby's eyes are still not sensitive to light. As a matter of fact, one month old infants have a light detection threshold 50 times higher than an adult. Thus, it is totally acceptable to keep some nursery lights turned on, as this does not affect their sleeping abilities.
Infants begin to develop their abilities of seeing colors rapidly. One week after birth, they see orange, red, green, and yellow. However, blue and violet are some of the colors that they won't see for a while.
Do not be afraid if your infant's eyes sometimes do not appear to work together as a team. One eye may move outward or inward from its proper alignment. This is normal. However, if you notice a consistent misalignment of your baby's eyes, you need to call an eye doctor right away.
Two and Three Month Old Baby's Eyes
When your baby reaches 2 or 3 months old, his or her vision development greatly advances. By this time, your little bundle of joy has sharper visual acuity and good team work between the eyes is present. He or she can follow moving objects and is beginning to reach for things that he or she can see. Furthermore, your child at this stage is discovering how to transfer their gaze from a single object to another without even moving their head. The eyes have increased in light sensitivity and at three months old their light detection threshold is 10 times that of a grown up. It is now recommended that you dim the lights during naptime or bedtime.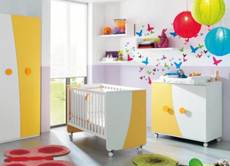 Bright colors in your baby's room will help stimulate vision development.
The American Optometric Association (AOA) has suggested some tips to help stimulate your two or three month old child's visual development:
Frequently add new things or change the cribs locations or other items in the room.
Talk to your infant while walking around the nursery.
Add a night light to bring visual stimulation while your child is awake.
Place infants on their stomach while awake in order to offer motor and visual experiences.
Four to Six Month Old Baby's Eyes
Once your baby is 6 months old, she or he undergoes a lot of amazing developments, since major advances are happening in her or his brain's vision center. This significant change provides your baby with the ability to see more clearly and move her or his eyes faster and more precisely while following moving objects. At 6 months old, your infant's visual acuity is about 20/25 and color vision is the same as an adult's, enabling your child to see the rainbow's colors. By this time, your baby has improved hand eye coordination; looking at and picking up objects accurately and even putting things in their mouth.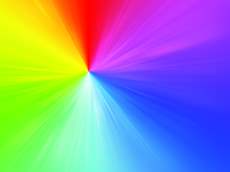 At 6 months old, your baby can see all the colors that you can see.
Furthermore, once your baby reaches 6 months, he or she needs to have his or her very first eye examination. Your doctor can perform a series of tests to detect possible eye conditions, such as nearsightedness, farsightedness and astigmatism, as well as tests to assess eye teaming and eye alignment.
Seven to Twelve Month Old Baby's Eyes
From 7 to 12 months old, your baby's eyes are now very active. Your child can judge distances and accurately grasp and throw objects. Eye development at this stage is crucial since your child is becoming aware of his or her overall body and is learning to link vision with body movements. Thereby, with the ability to crawl and see things, you should take extra measures to look after him or her to avoid possible injuries.
Vision development from newborn to 12 months is remarkable. Keeping an eye on your child's developments is crucial in determining whether they are reaching milestones at an appropriate pace. If you notice that your child is not meeting obvious developments, take him or her to the doctor. Your doctor will help you determine what is causing the delayed progress.