Babies and Congenital Cataracts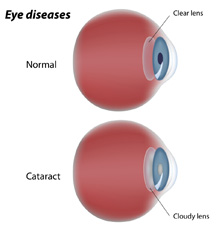 Cataracts are caused by the clouding of the eye's lens, whether in adults or in children.
A baby's eye developments are amazing. They start off with seeing shades of gray and slowly see other shades like blue, red, and consequently all the other colors of the rainbow. However, some babies' vision does not develop normally because of some congenital anomalies of the eyes. If the doctor tells you that you newborn baby has congenital cataracts, you need to understand what it is and plan treatment with your doctor as soon as possible.
What Are Congenital Cataracts?
This is a condition where the natural lenses of a baby's eyes are cloudy rather than clear. With this, a baby's eyes can be hampered to the degree that surgery to remove the cloudy lens is a must. However, not all congenital cataracts need surgery. Cataracts that only cloud in the lens' peripheral portion as well as tiny cataracts do not necessitate removal because central vision is not impeded.
When Does Your Child Need Cataract Surgery?
Surgery is performed only if the child qualifies for the procedure. Proper assessment is done before surgery is suggested for your baby, because high eye pressure may develop, which can eventually lead to glaucoma. High intraocular pressure can happen if the surgery harms the eye structure that facilitates fluid outflow. Additionally, anesthesia used for surgery in babies can be a huge safety concern for parents as well as the medical team.
Furthermore, surgery for cataract removal has to be done as soon as possible in order to assure normal vision development for your little tike. Experts believe that the best time to remove a significant congenital cataract is at 6 weeks old. This is why the moment your doctor tells you about your child's eye condition, you need to decide about timing of the surgery.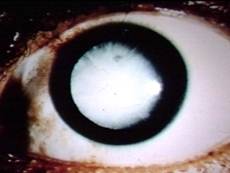 Congenital cataract.
When the cataract is removed, it is crucial for your child's eyes to be corrected with artificial intraocular lenses, glasses, or contact lenses. Without these vision correction devices right after the surgery, your baby will still have poor vision and normal development of vision will be hindered.
Others don't agree with artificial lenses being surgically inserted in the infant's eyes right after surgery. These people believe that inserting artificial lenses will hamper normal vision development. Artificial lenses have to be changed as your child grows, not because his eyes are growing, but because refractive errors usually change with age.
Another option after cataract surgery would be to have contact lenses fitted on your baby's cornea. This can be of great use to help regain vision right after the natural lens is removed. In some cases the eye doctor prescribes contact lenses after the congenital cataract surgery. Eye doctors provide training to parents concerning the application of the child's contact lenses.
Why Do Congenital Cataracts Occur?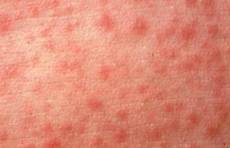 If a woman has measles while pregnant, her baby may be at risk for being born with cataracts.
You may think of cataracts as an eye disorder typical of older people and associate it with the aging process. However, this can happen to infants, too, because of things like infection, heredity, diabetes, drug reactions, inflammation, and trauma. For example, tetracycline antibiotics to treat for infections of pregnant women may cause congenital cataracts.
When the mother has infections like rubella or measles, chicken pox, German measles, herpes simplex, influenza, syphilis, and many other diseases, the baby can be born with a cataract.
Children and toddlers can be diagnosed with pediatric cataracts for reasons that are the same as congenital cataracts. Also, traumatic eye circumstances such as a blow to both or a single eye can be the cause of some cataracts in children. 33 percent of those with pediatric cataracts were born with congenital cataracts that were overlooked after birth. In the inherited cause of such disorder, protein abnormality may be the cause of the clouding of the lenses among children.
Different Types of Congenital Cataracts
There are 4 types of congenital cataracts: Cerulean cataracts, anterior polar cataracts, nuclear cataracts and posterior polar cataracts.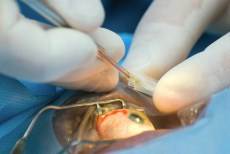 Surgery is only performed if the cataract is impeding central vision, thus preventing your baby from normal eye development.
Cerulean cataracts are characterized by cloudy lenses found in both eyes. These are usually characterized with bluish spots in the lens, do not cause any problems in vision and are associated with heredity.
Anterior polar cataracts are associated with inherited causes. The cataract is in the front part of the lens and is well defined, yet is often too small to necessitate surgery.
Nuclear cataracts are found in the middle portion of the lens and are the most common forms.
Posterior polar cataracts are similar to anterior polar cataracts, but are located in the back part of the eye's lens.
If congenital cataracts are not detected early, they can lead to other eye disorders such as amblyopia ("lazy eye"), strabismus, nystagmus, and fixation problems. These vision challenges can have a great impact on your child's learning abilities, appearance, and even personality. For these reasons, it is important for you, as a parent, to have your baby's eyes checked right after birth and regularly thereafter.