History of Photochromic Lenses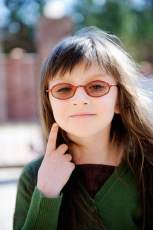 Photochromic lenses are clear indoors, and change into sunglasses outdoors.
The plastic photochromic lenses as we know them today are the process of quite a history, a story that begins at about the time that plastic CR-39® lenses became popular and started taking over the market, back in the 1960s.
1970s & 1980s: Stabbing in the Dark
Although plastic CR-39® lenses had been on the market for quite a few years, photochromic lenses were still only offered in glass varieties. Lens manufacturers busied themselves with researching the best possible way to please their customers' need for a lightweight and strong photochromic lens.
In the early 1970s, companies started researching ways to make CR-39® lenses into photochromic lenses, using the process that was used for glass photochromic lenses. The studies were kept quiet, especially because no new technologies were involved and the experiments were not a success.
Several years later, in 1981, a company by the name of American Optical released a photochromic lens called Photolite. The lens, although a failure due to its short life and ugly blue color, sent optical manufacturers back into a frenzy to create a plastic photochromic lens. This time, however, researchers spend time trying to create new photochromics that will blend well and activate correctly with CR-39® monomer.
Throughout the early and mid 1980s, several companies released photochromic plastic lenses to the public, but none were a well received product. Customers griped about the short life spans, the slow transition from light to dark, the darkest the lens got (which often wasn't dark at all), and the strange yellow tint the lenses had when worn indoors.
1990s: The Dawn of Transitions®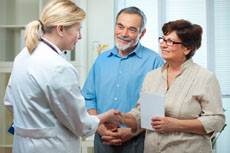 Transitions Optical, Inc. instilled confidence in their customers by offering a satisfaction guarantee.
Finally, around 1990, a company called Transitions Optical, Inc. released a new photochromic lens. These lenses had one extremely important quality that convinced customers to purchase them: a satisfaction guarantee. Surprisingly, although far the lenses were far from the ideal plastic photochromic lens, the company enjoyed a less than one percent return rate during the first few years of distribution.
Transitions® lenses at this time were made from a lightweight plastic monomer based from the CR-39® resin. The material was mixed with a photochromic material, which was activated by ultraviolet rays in sunlight, turning the lens from a clear lens to a dark sunglass lens. First generation Transitions® lenses darkened slowly, and not very intensely. But improvements have been continually made throughout the years.
In 1996 Transitions Optical, Inc. introduced their 3rd generation lens, which was a breakthrough because it achieved a truer gray color than before.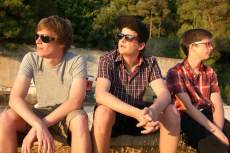 XTRActive™ lenses were created for people that are outdoors a lot.
Today's Photochromic Lenses
Photochromic lenses have improved continually since their first introduction. Visio-Rx sells Adnuo® lenses for our entry level photochromic. These lenses are made using the method of mixing lens monomer and photochromic material, and are an excellent starter photochromic. Reaction times and lens darkness have improved vastly since plastic photochromic lenses became available publicly back in the early 90s.
Transitions® lenses are available in Transitions® VI and XTRActive™ editions, and are made a little differently than the traditional photochromic lenses. Transitions® lenses now have a thin photochromic layer on the front of the lens that is UV activated. Because there is only a small part of the lens that has to turn color, the Transitions® VI and XTRActive™ have rapid color changing times. Traditional photochromic lenses take a little longer to turn color because the whole lens has to darken.
XTRActive™ lenses by Transitions® are made for people who spend a lot of time outdoors and do not mind a slight tint indoors. Because these glasses are not completely clear indoors, they are able to turn very dark outside.
Whichever lens you prefer, Visio-Rx offers them all. All photochromic lenses offer 100% UV protection, which is important to maintain healthy eyes. From our entry level photochromic made by Adnuo®, to the XTRActive™ lens made for outdoor fanatics, we've got you covered.