The History of Corrective Lenses
Painted in 1252, this painting is the earliest one known to show a person wearing glasses.
In the church of St. Nicolo in Treviso, Italy, hangs a painting dating from 1252. The artist, Tomaso da Modena, depicts the Dominican Bishop Ugone da Provenza in this painting, which happens to be the first documentation of a person wearing glasses. The priest's glasses were nothing special, just two magnifying lenses connected in such a way that they could sit on his nose, but their presence in this painting is remarkable nonetheless.
The Rise of Glasses
Around 1500, a man by the name of Johannes Kepler decided to start grading lenses by their power. Up until this time, lenses were categorized by the age of the wearer. After Guttenberg invented the printing press in the mid-1500s, glasses started becoming a commonly used item; with the amount of printed text on the rise, more people were finding out that they needed vision correction. At this time, glasses were mostly made of biconvex lenses, which were used to treat presbyopia in middle aged people. It wasn't until later on that it was discovered that biconcave lenses could be used to treat people with myopia.

Biconvex lenses were used to treat presbyopia.
Early Mass Produced Glasses
From their rise in the 1500s until the beginning of the 1800s, glasses were commonly sold in hardware stores. But, just as with anything, customers were clamoring for more attractive frames. As silver and gold rose in popularity for frame materials, the production of glasses naturally shifted to jewelers. From there, merchants purchased the ready made glasses, which had the same power for each eye, and sold these to customers. There was no system in place yet to measure a patient's eyes, so people had to try on one pair after another until they found a pair that helped clear their vision.
In the United States, there were two companies that started mass producing lenses in the beginning of the 1900s. World War I had cut the country off from its usual European supply of corrective lenses, causing Bausch & Lomb and American Optical to pounce on the chance to take over the market.
Lens Shape
From the dawn of glasses until the early 1800s, the shapes of the lenses were either flat, biconcave or biconvex. With the introduction of the toric lens in 1804, lenses with a concave backside and a convex front side became common in glasses. Toric lenses were produced in all powers with the same base curve (the steepness of the convex front curve). These lenses provided a much wider field of view because of the increased distance between eye and lens, making them much more preferable than the outdated shapes.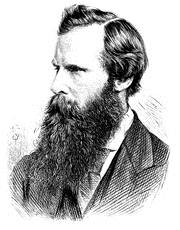 Dr. William Crookes invented a lens shade that filtered infra-red rays.
Lens Color
Since the dawn of society, people have looked for ways to make a profit. Lens manufacturers are no different, and started offering to add color to optical lenses. Their sales pitches included things like treating diseases and improving vision with color.
In the early 1800s, green, blue, and pink lenses became available. "Crookes," a blueish gray shade named after the British scientist Dr. William Crookes, was introduced later in the century. "Crookes" was able to filter infra-red rays, but never became very popular because the shade created ashen shadows beneath the wearer's eyes.
Later on, Bausch & Lomb created a much more attractive shade for their Rayban® line, and called it G-15. It is a dark green that is still very popular today.
Base Curves for Lenses
Although periscopic lenses were a big improvement on flat, biconvex and biconcave lenses, lens manufacturers ran across optical problems as frame sizes increased. This is how it was discovered that changing the base curve for different lens powers would produce lenses with less optical distortions. These lenses became known as "corrected curve lenses;" lenses that changed base curve for every two dioptres of power.
As is the case with most inventions, the hardest part was to convince dispensing eye doctors to stop prescribing toric lenses, and start promoting the more desirable corrected curve lenses.
Acrylic Lenses
World War I efforts in Britain allowed the British to become experienced in working with acrylic; the material they used for windshields on airplanes because of its impact resistant and lightweight properties. It was this knowledge that empowered British manufacturers to start making lenses for glasses out of this material.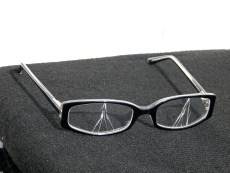 Glass lenses cracked and shattered much more easily than plastic ones.
Success, however, didn't last long for acrylic lenses. The material was susceptible to scratches and would yellow after only a few months in a warehouse.
The Move from Glass to Plastic
With the country rising up and out of the Great Depression and the rising popularity of household staples like cellophane wrap and Scotch® tape, the optical industry was abuzz with the idea of a durable, lightweight, plastic lens during the 1930s. Plastic was changing life as we knew it.
The development of polymerized methyl methacrylate (PMMA) was creating waves in the industry. Its crystal clear optical properties seemed to make PMMA an excellent choice for ophthalmic lenses. However, this material had the same problems as the acrylic lenses: prone to scratching and yellowing after a few months.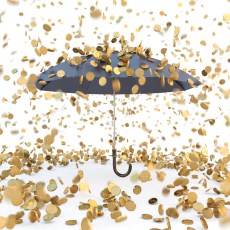 Since money doesn't just fall out of the sky, why spend the big bucks at a shop when you can get the same quality for much less here at Visio-Rx.com?
In 1940, a break through was reached. Columbia Resin #39, shortened to CR-39, was created. CR-39 had outstanding optical properties: a clear, lightweight material with a refractive index of 1.49. The material was ideal for creating plastic ophthalmic lenses, and revolutionized lenses as we know them today.
Today's Lenses
These days, the majority of lenses sold are made out of plastic. CR-39's development turned out to be the foundation for the development of all other lens materials. Glass lenses, though still available, have declined in popularity of the past few decades. Plastic lenses, compared to glass ones, are much lighter and more comfortable to wear, and have the advantage of not shattering when dropped on a hard surface.
Ophthalmic lenses have come a very long way since 1500. The variety of lenses (and frames) available today, combined with the ability for your glasses to be completely tailored to your needs, make them vastly superior than its first creation back in the 1200s. And instead of charging the outrageous prices that most optical shops do for all these improvements, we are here to offer you today's highest quality lenses and frames at affordable prices.