Gambling with Cheap Reading Glasses
Do you really want to gamble with your eye health, just to save a few dollars on a pair of reading glasses? Not all reading glasses are created equal, and your eyes will suffer the consequences of a poorly prepared pair. Whether you choose a mass produced or customized pair of reading glasses, inadequacies can be found. But if you do a little research, you can purchase a good pair at a low price.
As we age, our eye's lens becomes tougher and less flexible, making it harder for the eye muscles to continually curve the lens steeper in order to bring things into proper focus at reading distance, such as printed letters. This condition is called presbyopia. Reading glasses will help converge light properly to give you clear vision up close.
Video: Near vision explained.
However, difficulty with reading isn't always a solid symptom of presbyopia. Some people may be able to read the newspaper without a problem, but when they're done may have blurry vision for a while when looking in the distance. This may be because your muscles, which have made the curve of the eye lens steeper in order to read, are having difficulty relaxing to allow the lens to become flatter. In cases like these, people may mistakenly go looking for glasses to correct their distance vision, even though this scenario also calls for reading glasses.
Shameful
For only a few dollars people can purchase a ready-made (mass produced) pair of reading glasses at grocery stores, pharmacies, or even gas stations. But are these of good quality? Or should people go to their optician to get a customized pair of reading glasses, even though it'll cost at least 10 times as much?
Apparently, purchasing reading glasses is a gamble, judging from the results of a study by the Consumentenbond (the Consumers' Association in the Netherlands). A total of 100 ready-made glasses were purchased at 5 different chains. Also, a mystery shopper purchased a total of 16 pairs of customized reading glasses from large optical chains, and 4 from a Dutch chain called Eyelove, which sells customized glasses inside a Dutch drugstore chain. The result? 19 ready-made and 8 customized pairs were no good. Especially the opticians should be embarrassed by this shameful outcome.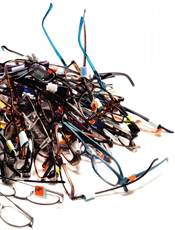 You can purchase either a pair of ready-made (mass produced) reading glasses, or you can get a customized pair at your optician.
On average, the ready-made glasses cost €4.50 (approximately $5.90). The cost of the customized glasses ranged from €29 to €109 (about $38 to $143). But no matter which you purchase, you run the risk of acquiring a pair that will give you nothing but headaches. It's not about the power of the lenses, which is correct for all customized and ready-made glasses. But not all opticians know how to correctly determine the required strength of reading glasses. Especially problematic is the location of the optical center of the lens, and the distance between the optical centers between the two lenses (PD of the glasses). It is important that the optical center of a lens sits right in front of your eye, hence the importance of both pupillary distance (PD) and vertical fitting height. Watery eyes, headaches, dizziness and double vision are potential consequences if the centers are not correctly placed.
A total of 6 ready-made glasses had the centers way too far apart, much more than the 62mm PD that the packaging claimed. One of these pairs had a baffling distance between centers of 69mm: 11% more than the claimed 62mm. This can be detrimental to people that have a smaller PD than the average of 62mm, or for people that need a strong power. Of the ready-made glasses, 7 of them have the correct total distance between the centers of the lenses, but the centers are not the same distance away from the nose. Another 11 have the same symptom, but not as severely. The stronger the glasses, the more important it is that the distance between the optical centers is the same as PD. In 8 of the glasses is one optical center mounted higher in the glasses than the other lens. A couple of pairs have a combination of problems with the distance between the centers, and the vertical mounting height. People that wear glasses like these should not be envied.
Headache
Of the 100 ready-made glasses (20 pairs purchased per chain), 19 exhibit unacceptable errors in the distance between the optical centers and the height of the centers.
Blindness Creeping
"Now that so many people purchase their reading glasses from a drugstore or grocery store, they're missing out on warnings about glaucoma," says optometrist Anton Verezen. Anytime you get your eyes checked, your doctor should measure your intraocular pressure (IOP). A high IOP can indicate a higher chance of glaucoma, an inheritable condition that does not have many warning signs in the early stages. Glaucoma should be caught early to prevent blindness. Every optician, except for one, visited by our mystery shopper did not measure eye pressure. When asked about this later on, the excuse was that the shopper was wearing contact lenses. A weak excuse, since it takes 5 seconds to take out contact lenses.
But don't think that you can avoid these headache inducing glasses by purchasing a customized pair at an optical shop. First off, not all opticians measure the required strength accurately. The mystery shopper, an expert, usually wears a contact lens in one eye for distance and a contact lens in the other to see up close (also called "monovision"). She asked the opticians for reading glasses she can wear along with her contact lenses that will make it easier for her to read for longer periods. Not exactly an outlandish request, but for some opticians still much too difficult.
"We need to know the measurements of your contact lenses," one said. Nonsense: the measurements of the contact lenses are not necessary to determine the strength of the reading glasses. "In order to have a correct measurement, take out your contact lenses for a few hours and then come back," another said. Again, nonsense: the glasses need to be worn over the contact lenses.
Quite a few opticians tested the mystery shopper's reading power while she read with both eyes open, gave her the same power lens in both eyes (+2, the rule of thumb for age 53). Nonsense: one lens needs to be less powerful than the other, because one eye is already being corrected for near vision with a contact lens. When the expert carefully suggested that maybe the power for each eye should be measured separately, the answer was too frequently "Don't you read with both eyes open?" This shows that these opticians obviously had no idea what they were doing.
A person's preferred reading distance should also be considered when ordering customized reading glasses, but very few opticians asked for this information.
Laziness
The opticians also made mistakes with the optical centers of the lenses. Either they measure the PD wrong, or the lenses are edged incorrectly. Together the opticians delivered 7 pairs with mistakes. Some opticians didn't measure PD at all, and used the average PD of 62mm, just like manufacturers do with ready-made reading glasses. Most opticians did measure the mystery shopper's PD, most frequently with a machine. A few used a ruler, which resulted in a PD that was a few millimeters off. The PD measurements ranged from 55mm to 64mm, while the shopper's near PD is actually measured at 57.5mm. Almost a third of the optical shops didn't measure the vertical fitting height of the glasses. Apparently, these shops use an average fitting height, just like manufacturers of ready-made reading glasses. One pair from an optical shop had both a measuring and edging mistake: the optical centers of the lens sit so high in the glasses that you can only see properly if you hold your reading material above eye level.
Rules of Thumb
Age
Power

45

+1

47

+1.5

50

+2

60

+2.5

70 and above

+2.75 or +3
Someone that has a pair of glasses they love can go to Eyelove, situated inside select franchises of a Dutch drugstore, and have the glasses measured and remade. This study did so at 2 different Eyelove locations, with good results. The delivered glasses met the requirements that were set for ready-made glasses. Also, you can go here with a prescription from your eye doctor. Cost for a customized pair of reading glasses here is €49 ($65). If your prescription does not include PD, an employee will measure this for you, which the mystery shopper did at both locations. This, however, had troubling results.
The employee at the first Eyelove location asked the shopper to "look in the distance" without specifying a spot. Then, he failed to subtract 4mm from the PD total, as is necessary for reading glasses. When contacted about this, Eyelove admitted that the employees were not taught to adjust PD for reading glasses because of a fashion perspective: to avoid thick lenses.
The employee at the second location somehow came up with a PD of 16mm, which the computer program did not accept for the order. He then grabbed the training manual and, unbelievably, simply noted down the value of the example in the book. The computer accepted this value, but the mystery shopper did not.
As a result of the Consumentenbond's criticism for these practices, Eyelove made it known that they will review their practices in regards to reading PD and training of their employees.
Tips for Buying Reading Glasses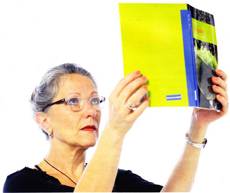 If the optical centers of your lens are mounted too high, reading material needs to be held up high in order to be able to see it clearly.
Test results conclude that you can definitely try a cheap, ready-made pair of reading glasses, but follow these tips:
Ready-made reading glasses are only suitable for people that don't normally wear glasses, but can be used by people that wear contact lenses.
Often, the reading glasses rack has a little reading card attached, with which you can determine the power you need.
The older you get, the stronger your reading glasses will be. The power of reading glasses is expressed by a number with a + in front of it. For those who read at an approximate distance of 30cm (about 12 inches) can utilize the table of the rules of thumb presented earlier.
It's especially important that the PD of the glasses is the same as your own PD if you require a strong prescription. Often, the PD of the glasses is displayed on the package.
When you set your glasses down, unfolded, on a flat surface, both ends of the temples should touch the surface. This indicates that the frame is not bent or crooked.
If you need a stronger lens for one eye, you can purchase a cheap pair of glasses in each desired power (make sure the frames are identical and the lenses can be taken out), and take the lens out of one pair and put it in the other.
If you have astigmatism, and thus need a cylinder in your lens, you shouldn't purchase ready-made glasses. A better choice would be to get a customized pair of reading glasses.
No matter where you purchased your glasses, if you are plagued by watery or tired eyes, headaches, dizziness or double vision, you need to stop use and return the glasses.
Reading glasses are not suited for use while driving.
Visio-Rx and Reading Glasses
So, why take a risk with purchasing a cheap pair of glasses? Visio-Rx offers specialized, custom made reading glasses for an affordable price. Your glasses will have all coatings included, something which mass produced glasses often don't have, and something that costs extra when ordering from an optician. Best of all, all our reading glasses come with our 1 Year Manufacturer's Warranty and our No Quibble Guarantee. And, if you need one last incentive, Visio-Rx has a huge selection of frames to choose from. You're bound to find one (or several) that you will love.

PL version article, "Leesbril op de gok," appeared in the October 2011 edition of the Dutch consumer's guide Consumentengids on pages 12-15. Click here to see original translation (PDF). Click here for original Dutch article (PDF).