Differences in Frame Quality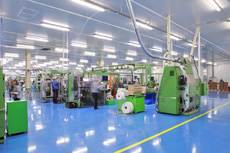 Using good quality materials, methods and machines are crucial in creating quality eyewear.
Eyewear frames come in many different qualities. It is all a matter of differences in quality of:
Materials
Manufacturing methods
Plating
Coating
The bare manufacturing cost of a frame is relatively low. Yet, in order to bring prices down, manufacturers can apply cost savings techniques to make a frame even more affordable. But there is a clear trade-off between cost and quality.
Due to the short (fashion) life span of a frame, the low price, and the enormous variation in available frame models, it is not feasible to do long term testing of frames. Nevertheless, based on experience, we know which materials, manufacturing techniques and frame manufacturers yield certain results.
Visio-Rx has an indication for all of our frames for what we feel is our best judgment regarding the expected quality of a frame. This works as follows:
Searching for a specific quality is integrated into our frame search.

Occasional

: A decent quality, but we do not recommended this for constant, everyday use. But great for e.g. sunglasses, a back-up pair, an extra pair in your car, for special occasions, or as one of a collection of eyewear you may own and use. Expect good life from this quality level if used 1 - 2 full days per week.



Frequent

: A good quality. Yet if this is the only pair of glasses you plan on using, you may want to upgrade to the next quality level. When using this around 3 days per week, you should expect to be able to use this pair for a long time.



Constant

: This is what you want to choose if the frame is to be used as your only pair of eyewear
Many of our customers own multiple pairs of eyewear – which is easy to do at our price levels. It is good to keep in mind that if one owns multiple pairs, then the use that a pair sees decreases significantly. When owning three pairs (and using them about the same), a pair sees only a third of the use compared to a single pair that is used around the clock. In such cases, the Occasional quality level will work absolutely fine.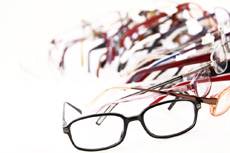 With our prices, owning a collection of quality glasses is finally possible.
Unfortunately, most shops do not have much experience in judging the quality of a frame, as the shop staff do not have the opportunity to visit the frame manufacturers. Thus they are not in a position to offer the customer much help. You may have noticed that no shop provides an indication of quality levels with the frames offered.
Our customers have a choice of websites where you can buy eyewear. Very few the sites make an attempt to indicate the relative quality level of the frames. Worse, often one will find exaggerated claims that all frames offered are of top quality. But how a $7 pair of glasses, made of the cheapest type of plastic, can be of great quality remains a riddle. Most customers will have a gut feeling that there probably is a relationship between price and quality.
At Visio-Rx, we want to treat our customers fairly, which is what we are attempting to do with an honest appraisal of frame quality. And, of course, by always including lenses that come standard with all premium coatings, so our customers are not faced with unpleasant extra costs when configuring their glasses.