Brand Names
Frame brands come in an enormous variety. For the customer it is sometimes very difficult to understand how exclusive a frame brand really is. One thing is for sure: creating an exclusive brand name will cost a small fortune in marketing expenses. And this cost needs to be recovered through the sale of product. So it should not come as a surprise that frames with fashion brand names can be rather expensive.
As an aside, fashion brands rarely manufacture or sell frames for glasses. This is mainly done under license. In fact, the 2 largest Italian frame manufacturing companies have contracted the exclusive rights to some 60 top fashion brands and put those names on their frames.
Visio-Rx has chosen a different approach. We act as the exclusive marketing arm for a limited number of excellent brands. As you will notice on our website, between these brands, there is an enormous choice; our collection is double or triple the number of frames found in a typical store.
We keep all of our frames in inventory at our lab, thus there are no unpleasant "out of stock" situations. If there is no stock, the frame will not be shown on the site.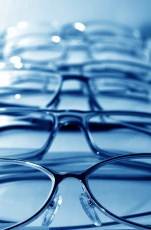 Our frames are of the same quality as expensive designer frames.
Since we have all frame styles in stock, we can prepare our own high quality 3D pictures. This is a great tool in deciding on a particular frame, and when our customers receive their chosen frame there will be no unpleasant surprises. Sites that offer fashion brands cannot do this, as they only buy the frame from a distributor after a customer has placed an order. With our virtual mirror, our customers can try on all of our frames in the convenience of their home.
The quality of our frames is comparable to what you will find in any store, from their budget line all the way up to the fashion brands. A very large portion of the eyewear frames are nowadays produced in China; even the two largest Italian frame manufacturers have enormous production facilities in China. And we have seen certain fashion brand manufacturing being sub-contracted to similar companies as the ones used by our chosen brands.
As a result of the way we work with our frame brands, our prices are unbeatable and you will not be disappointed with the quality.