Taking Care of Common Eye Injuries
A number of typical eye injuries, like deep wounds from accidents, may necessitate emergency treatment in order to prevent vision loss. Minor injuries such as surface scratches may require monitoring after a trip to the eye doctor to ensure that there are no infections.
Common sense is the best to keep your body and eyes safe. Wearing safety glasses during risky jobs allows you to maintain healthy vision and prevent eye injuries at the same time.
These are some typical eye injury conditions: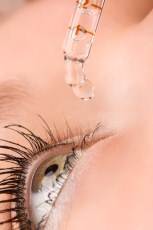 Usually, doctors can flush foreign particles from your eyes using a saline solution.
Foreign Body in the Eye
You walk around every day, whether at school, the office or home. While walking, some foreign particle may get blown into your eye. Common culprits are small pieces of sharp metal (job related), dust, sand and even tiny insects. If some object penetrates your eyes, you need to seek emergency care right away. Never try to remove it with your hands or rub your eyes. This can aggravate the situation. Wait for the doctor to take care of your eyes for you. On your way to the emergency unit, cover your affected eye with tissue paper or a clean eye shield.
Corneal Abrasion
Excessive eye rubbing and getting poked in the eyes, especially when there is a foreign particle present, are the most causes of corneal abrasions (scratched eyes). This kind of injury can be very uncomfortable and cause light sensitivity. If you feel that something has entered and scratched your eyes, it is crucial that you go see your eye doctor or go directly to the emergency room to seek immediate treatment for your injury. If left untreated, the abrasion could lead to complications or infections.
Bacterial and fungal infections can stem from scratched eyes. There are specific kinds of fungi or bacteria that can enter your eyes and lead to serious infections, even blindness, within 24 hours. This is even more likely if the object that scratched your eyes is contaminated or dirty. Don't forget that eye injuries, like scratches, can simply come from your own fingernails.
If you have scratched your eyes, don't rub or patch it. Bacteria love dark, moist places. Your eye is an ideal spot. If you suspect a bacterial or fungal infection, go to your doctor immediately to get it checked out.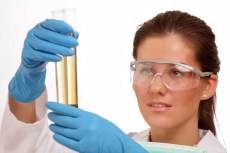 Wearing safety glasses while using chemicals will help preserve your eyes.
Chemical Burn
If your job requires regularly working with chemicals, be extra cautious with the materials you are dealing with. You never know when you may accidentally splash chemical in your eyes or be sprayed by something acidic. If this happens to you, the first thing that you should do is wash your eyes with flowing tap water for at least 15 minutes. If the sting does not disappear, go to the emergency room immediately.
Exposure to chemicals and burns are commonly caused by splashes of liquid entering the eyes. However, these can be also be caused by other factors like transferring chemicals from hands to eyes or getting sprayed by aerosols (like hair spray). If you get sprayed in the eye with chemicals you can try putting an ice pack or moist compress on your eye, but remember not to rub it. Always seek immediate medical treatment.
Swelling of the Eyes
Swelling of the eyes can be caused by being struck in your eyes by a moving object (such as a ball). An ice pack is the best treatment for this kind of eye injury. Even if you have a simple bruising around the eye or black eye, you still need to see a doctor to check the interior of the eye. Swelling or bruising can sometimes be accompanied with little lacerations.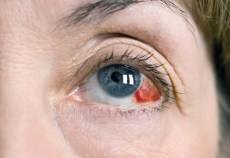 Subjunctival hemorrhages look worse than they are, and will usually clear on their own.
Eye Bleeding (Subconjunctival Hemorrhage)
Subconjunctival hemorrhages are a typical eye injury, and can affect smaller portions of the eye or the whole eye, giving the sclera a red color. Eye bleeding can be painless and does not cause any form of vision loss. There is no treatment required and after some time the blood will eventually clear and the eye will return to normal.
Traumatic Iritis
The inflammation of the eye's colored part surrounding the pupil is known as traumatic iritis and usually happens right after any eye injury. It's usually caused by a simple poke in the eye or a blow to the eyes from a blunt object like a hand or a ball. This kind of eye injury needs immediate treatment because of the risk of decreased vision.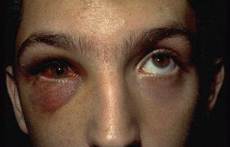 Orbital blow out fractures are a serious injury that should be addressed by a doctor as soon as possible.
Orbital Blow Out Fractures and Hyphemas
Any break or crack in the bones surrounding the eyes is called an orbital blowout fracture. A hyphema is where the eye's anterior chamber (the space between the iris and the cornea) bleeds. Both are serious eye injuries and should not be taken lightly. These are most likely caused by forced trauma to the face and the eyes suck as getting hit by a flying ball, or getting kicked or punched in the face.
What You Can Do in Case of Eye Injuries
If you have a serious eye injury, the very first thing that you need to do is inform your eye doctor or go to a nearby emergency unit. Doctors usually leave their personal numbers for their patients to contact them after normal clinic hours. After your eye injury has been taken care of, make sure that you follow take home instructions properly. Do not forget to mention to health care practitioners if you are wearing any contact lenses.
Furthermore, never, ever forget to treat all eye injuries as major emergencies. You only have two eyes, take good care of them.