Eye Safety 101
Eye safety is very important. Imagine that an injury affecting your sight could have been preventable, if only protective eye gear had been worn. Life changing events like this can leave a feeling of regret for years. Wearing safety glasses and following some safety rules can help prevent this from happening.
Causes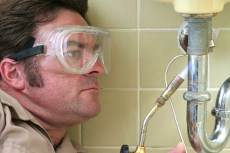 Safety goggles should be worn at all times while performing tasks that are potentially hazardous to your eyes.
Prevent Blindness America (PBA) stated that an estimated 2.4 million people experience eye injuries in the US every year, and almost a million of them have lost some of their eyesight due to these injuries. Experts suggest that the use of safety glasses and other precautions can prevent the majority of eye injuries. PBA lists some of the most common eye injury culprits, including tools such as wrenches and screwdrivers, chemicals like oil, solvents, and gasoline, and harmful radiation from UV light and welding arcs. Other causes include windblown particles like sand, wood, dust and objects like glass and bits of metal.
There are also household objects and everyday circumstances that can cause injury to the eyes. This includes falls, bumps, finger nails, make up gadgets, games and toys with sharp edges, garden tools, kitchen tools, batteries, and so much more. Sports related traumas are also common; another athlete's hand, finger, foot, or other body part, a racquet, bat, stick, ball, UV from sunlight (outdoor games), airborne particles, and many more.
Exercise caution when applying make up: mascara wands can scratch your cornea.
In some cases, there are precautions that can help you prevent risks for eye injuries in your home, work, or game area. The easiest way to prevent eye injuries is to do one thing at a time. Keep your focus on a single task so that your eyes and brain will not be distracted. This rings true especially when you are working with tools or objects near your eyes. For better eye protection, you can wear safety goggles.
In Case of an Eye Emergency
If you are suffering from any eye injury you need to contact your ophthalmologist or eye doctor as soon as possible. Ideally, you should have your eye doctor's number in your wallet in case of emergency.
If you have an eye injury that is caused by chemicals or air blown particles, the first thing you need to do is flush it with water for at least fifteen minutes, and then call your doctor, go to the ER or to an urgent care center. If you often work with chemicals, you should make sure that your work area is near a sink where you can easily flush your eyes with water, and make sure to always wear protective eye gear.
Remember that you need to treat all injuries to your eyes as potentially serious, and call or visit your eye doctor as soon as possible if you have concerns. Remember that you have only one pair of eyes. Take care of them.