Eye Injury Prevention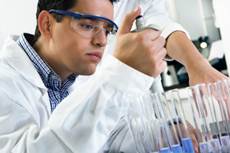 People that frequently work with chemicals or other potentially hazardous materials should always wear protective eye gear.
According to experts, 90 percent of eye injuries can be easily prevented. Every day, your eyes are at risk for injuries, especially if you work with things like leaf blowers, power tools, chemicals, lawn mowers or saws. While operating any of these tools, you need to wear protective eye gear, which needs to fit properly on your face and should be snug in order to minimize the probability of having small particles enter your eyes.
You can buy safety goggles that can easily fit over your glasses, but a better and more comfortable alternative would be to order a pair of safety glasses in your prescription with polycarbonate, Trivex, or Xirm lenses in them.
Programs for Workplace Safety
In the United States, workplaces that include noxious chemicals or airborne particles maintain standards that guide their employees towards safety. Their safety procedures must follow the Occupational Safety and Health Administration (OSHA) Guidelines for emergency eye care and protective eyewear. To double check these specifications, you can visit their website and look for information about topics including:
State plans
Training materials and state plan publications
Face and eye protection
General standards of the industry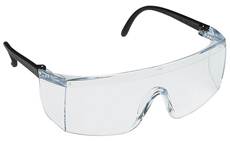 Some workplaces are only required to provide safety glasses that fit over your prescription glasses.
A majority of standards for protective eye wear necessitate employers to have prescription safety glasses or lenses for those who already have corrective eye wear. Other types of work are only required to provide shields that protect and cover the eye glasses.
Make sure that you totally comprehend eye injury risks in your work place, and always use the right type of safety eye gear. Employers should regularly seek a doctor's opinion concerning their safety procedures, as they may be able to give additional tips not provided by OSHA.
Air Bags
The fact that airbags have saved millions of lives all over the world is no secret. Ever since the introduction of airbags in 1989, they have significantly helped drivers avoid life threatening injuries during car accidents. However, despite their amazing benefits, there are still issues that have risen concerning its disadvantages. Studies have indicated that people have acquired minor and major injuries from airbags. Broken wrists are especially common due to most older drivers still holding the steering wheel in a "10 and 2 o'clock" position; common teachings today are for drivers to hold their hands lower on the wheel, in a so-called "9 and 3" position. Deaths have also been reported due to the strong deployment of air bags.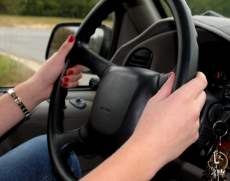 Steering wheels should be held in a "9 and 3" position to avoid broken wrists from airbag deployment.
Today's new cars come with air bags that deploy with less force than the earlier versions, thus making them safer. Although it is possible to sustain eye injuries from air bags in the event of an accident, you are more at risk for serious injuries from shattered windshields. In order to minimize air bag related injuries you need to make sure that you are sitting at least ten inches from the steering wheel, holding the steering wheel in a "9 and 3 o'clock" position, wearing your seatbelt, and having proper support from a well adjusted headrest. Additionally, to prevent similar injuries, remember not to text or call while driving, and if you have children with you, make sure to have them sit in the backseat with properly adjusted safety seats and seat belts.
Fireworks, Champagne Corks, Laser Pointers and Paintball
Fireworks are one of the most common causes of eye injuries. The United States Center for Disease Control (CDC) has reported that over 11 thousand people were treated in emergency rooms due to firework injuries in 2005. The CDC noted that the highest rates of firework related injuries were found in children age 10 to 14 years old and that 25 percent of these injuries included eye damage. The CDC also added that the most typical injuries from fireworks include foreign bodies, lacerations, and contusions.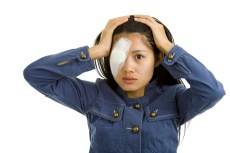 Serious eye injuries, and even blindness, can occur if you aren't cautious with things like fireworks or champagne corks.
The American Academy of Opthalmology suggests some safety guidelines concerning the use of fireworks:
Don't allow children to play with fireworks
Fireworks should be viewed form at least a 500 feet distance
Fireworks should only be lit by trained professionals
Unexploded firework remains should not be touched. If any are found, call the fire or police department
Champagne corks are among some of the major causes of eye injuries. On New Years Eve, when popping a bottle, an eye injury is probably the last thing on your mind. However, a flying cork from a champagne bottle can significantly rupture your eye ball or can lead to retinal detachment. These conditions can cause blindness. The American Academy of Opthalmology states that these injuries usually occur from chilled champagne bottles because corks can pop out with more force.
You can prevent such unfortunate injuries from happening by simply pointing champagne corks away from yourself and anyone else while opening a bottle. You can minimize the force by placing a towel on the cork and keeping your hands on it while removing it in a twisting motion.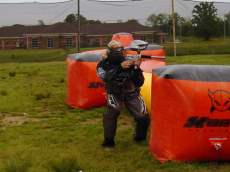 Protective eye gear should be worn at all times when playing paintball or airsoft.
Laser pointers shine a high intensity beam of light, and are often used in meetings and class presentations. Looking directly at this beam can cause temporary vision loss and permanent damage to the retina. The US legal limit for laser power in a handheld device is 5mW, and the American Academy of Ophthalmology strongly emphasizes the need to keep the beam away from eyes and reflective surfaces.
Paintball and airsoft are fun, but dangerous. If you are a big fan of these games, make sure to wear the right protective gear while playing. Guns have the capacity to propel pellets at an acceleration rate or speed of over 180 mph.
Paintball and airsoft related injuries include detached retinas, hyphema or bleeding inside the eyes, traumatic cataracts, orbital blowout fractures, and glaucoma. They can also result in partial or total blindness. Bottom line: Never remove any of your safety gear while still playing, including your goggles and helmet!

See our landing pages.