The Importance of Eye Exams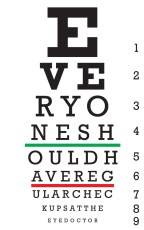 Getting your eyes checked regularly is just as important as a routine physical.
Eye exams are important, even if you are physically healthy. Your eyes are important parts of your body, and a routine eye examination is recommended for all ages.
During an eye exam, your optician or eye doctor does not just fit you for glasses or contact lenses, but he or she will also check your eyes inside and out, assessing them for common diseases and determining how well they work together. Your eye care practitioner will also evaluate both your eyes to indicate their overall health and condition.
Get Your Eyes Checked
Routine exams are a crucial factor for maintaining your health. Both children and adults need to have their eyes tested to keep their prescriptions up to date, as well as to determine premature signs of any eye disease. Eye tests for children play a crucial part in assuring normal vision progress and academic success.
The learning process is closely related to vision. Children and students who have problems interpreting what they are seeing or distinguishing teachers' projected presentations and lecture notes on the board often have academic problems. Often times, children do not complain about their visual problems because they still do not know what normal vision is. If you notice your child performing poorly in school or showing any sign of learning or reading disability, make sure to bring him or her to the doctor and have his or her eyes checked before the condition worsens.
Doctor's Checklist

Other than standard eye evaluation for contacts or glasses, eye doctors also assess your eyes for diseases and other eye related problems that can lead to visual damage. Below are some examples of visual conditions that your doctor will usually assess.
Amblyopia – Amblyopia is also known as a "lazy eye." The brain usually disregards the image from the defective or blurry eye. If this condition is not treated, visual developments in that eye are stopped, which can eventually lead to vision damage or worse: blindness in one eye. Patching the stronger eye for a longer period is one treatment for amblyopia.



Glasses can treat many problems that may occur within your eyes.

Problems in eye teaming – Your eyes work as a team, but there are some conditions wherein the eyes do not seem to work together. Even if you think that your eyes are properly aligned, there is a possibility that they are not working as a team. This is known as a binocular vision problem and can cause eye strains and headaches, thus affecting reading and other near vision tasks.


Refractive Errors – Nearsightedness (myopia), astigmatism, and farsightedness (hyperopia) are refractive errors. Errors in eye refraction can be simply corrected with glasses, contact lenses, and refractive surgery (such as LASIK).


Diseases of the eye –There are a number of eye diseases which remain asymptomatic in their earlier stages, including age-related macular degeneration (AMD) and glaucoma. By checking for such problems routinely, vision loss can be prevented, especially if the disease is caught in its earlier stages. By intricately looking at the blood vessels in the eyes your doctor can also tell you if you have high cholesterol, high blood pressure, and other related problems.


Focusing Problems – This includes focusing problems ranging from incomplete focusing skills among children to decreased focusing ability among adults.


Strabismus - Strabismus is also known as turned eyes or crossed eyes. The doctor checks for the alignment of your eyes to ensure that they work together. This eye condition can be linked to problems in depth perception which can eventually lead to amblyopia.


Blurry vision can be a sign that you need glasses.
Visions Screening vs. Complete Eye Exams
Vision screenings are no substitute for comprehensive eye exams, but they are important. A vision screening is a series of brief eye exams usually performed by a pediatrician, school nurse, or other health care provider. This is usually the test you will undergo when getting a driver's license. Depending on who performs the exam and where it is performed, visions screening tests involve exams for muscle coordination, blurred vision, or common diseases of the eye. This kind of test may indicate that you need to have your eyes checked more thoroughly in a complete exam.
Comprehensive eye exams vary from simple screening tests. A comprehensive examination is provided by an ophthalmologist or optometrist, and the tests are more intricate and take more time. If the doctor finds any discrepancies in your vision he or she then discusses the options best suited for your visual needs.
Plans for treatment after your eye test
If there are discrepancies discovered during your eye exam, the doctor then presents a treatment plan that is best suited for your condition. Part of the plan may involve the use of prescription glasses or contact lenses for refractive error correction. Surgery for binocular vision or strabismus and vision therapy may also be requested by your doctor if the need arises.
He or she may also advice you to take some medications, such as vision supplements, in order for you to maintain healthy vision.
No one is exempted from having regular eye examinations because seeing clearly is an important aspect of life. With proper eye examination the majority of eye problems can be prevented or treated.