Testing for Color Blindness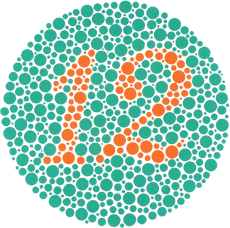 The Ishihara test consists of plates made up of dots, in which numbers are visible if your color vision is normal.
Color blindness is fairly common, but tests have to be done in order to identify the problem first.
Doctors usually peform a color blind test to identify color blindness or color vision deficiency. There are two kinds of tests to assess color vision. These tests include a screening test which simply indentifies the existence of color blindness, and the quantitative color blindess test that identifies deficiencies in color vision and grades it according to severity and type.
Screening Test for Color Blindness
The Ishihara Color Vision Test is the most commonly used color blindness screening test. The testing method was named after Shinobu Ishihara, a Japanese ophthalmologist. He was the spearhead of creating a procedure and was the first one to publish its description in 1917. The Ishihara Color Vision Test is made up of a booklet with pages containing circular patterns, also known as plates. These plates are made up of dots of varied colors, sizes, and brightness. The apparently randomized colored dots are arranged in a such a way that someone with regular color vision will identify a number in an array of dots. A color blind person on cannot see the number or will see a different digit.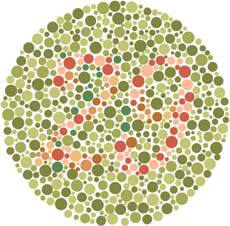 You should be able to distinguish the number 29 here.
The Ishihara plates are what eye doctors use for screening patients with color vision problems. The complete test contains thirty eight plates, but there are shortcut versions with fourteen or twenty four plates. The shorter versions are the ones usually used during complete eye examinations. Those being tested are asked to look at the plates in a normally lit room while wearing normal prescription eye glasses. This test may not be reliable for examing young children because it requires the identification and recognition of numbers, which may be difficult for very young children.
Pseudoisochromatic is the common term used for describing the Ishihara Color Vision Test color plates. This pertains to the colored dots located in the pattern which may initially be perceived as equal in color (iso=equal, chromatic=color) with its surrounding dots. Nonetheless, this is a false similarity, hence the term "pseudo". Ever since the Ishihara Color Vision Test was introduced, many companies have made their own version of it with the use of pseudoisochromatic plates.
Quantitative Tests for Color Blindness
Farnsworth-Munsell 100 Hue test.
A quantitative color blindness test is necessary if you want a detailed analysis of your color blindness including your capability to perceive colors. The most used quantitative test is the Farnsworth-Munsell 100 Hue Test. This eye examination quantifies and identifies problems in color vision. It is made up of 4 trays consisting of small disks with different hues. At each end, every tray has a colored reference disk. The person being examined has to line up the disks from light to increasingly dark hues, leading up to the color of the reference disk.
In order for results to be more accurate, the Farnsworth-Munsell 100 Hue Test must be done in a booth especially made to simulate daylight. Moreover, the disks have to be replaced every 2 years in order to prevent color loss that can affect test results. Every colored disk has a number at the bottom so that the results can be scored. This way the Hue Test can identify if the person tested is color blind and can also identify the severity and type of color blindness.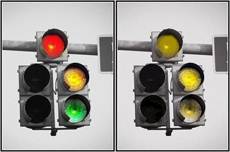 Left: the way a person with normal color vision sees a traffic light. Right: how a color blind person may perceive a traffic light.
Who Needs Color Blind Tests?
Color blind tests have to be administered to anyone whose profession requires efficient color perception. These professions include designers, technicians, commercial artists, and many others.
In most cases, fears concerning being handicaped because of color vision problem are unnecessary because this deficiency is present at birth. Most people who are color blind do not actually know of their existing visual problem and do not find it to be a hindrance in everyday life. There is no cure for color blindness; however, some people find that contact lenses or glasses with special tints can enhance the differences among certain colors.
Testing Online
Many versions of the Ishihara screening test are offered online in various qualities. If you choose to take tests for color vision online, remember that proper color presentation is necessary for accuracy. Colors can differ from monitor to monitor. If you want a truly
accurate eye exam, seeing your eye doctor is essential. Trained professionals use standardized procedures and equipment to adequately assess color blindness.