Comprehensive Eye Exam 101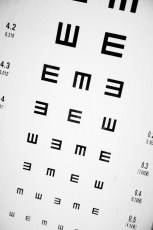 Tumbling E chart.
Eye doctors such as ophthalmologists, opticians, and optometrists use a lot of procedures and exams to test the eyes. These tests range from simple, like the Snellen eye chart, to complex eye examinations, such as high powered lenses for visualization of tiny eye structures. A comprehensive eye exam can take an hour or more, depending on the number of tests needed for full vision evaluation. Below are the different kinds of eye exams that you will most likely undergo during a standard comprehensive eye exam.
Test for Visual Acuity
One of the very first tests done in a general eye exam is a series of visual acuity tests that gauges vision sharpness. This test is usually performed with the use of an eye chart projected in front of you. This measures distance visual acuteness, and is usually done with either a Snellen eye chart or a so-called "tumbling E chart". For measuring near vision acuity, you will be asked to hold and look at a small visual acuity chart.
Test for Visual Field
In numerous cases, your optician or optometrist may want to assess for possible presence of scotomas (blind spots) in your peripheral vision by performing the visual field test. Eye diseases, such as glaucoma, can be the cause of blind spots. Through blind spot analysis, specific brain damage due to tumor or stroke can be identified.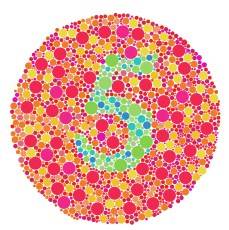 A color blind test may look similar to this.
Test for Color Blindness
As part of the comprehensive test, a screening exam that assesses color vision is sometimes done earlier in the series of procedures. This test helps in the ruling out of color blindness as well as hereditary deficiencies in color vision. Furthermore, such a test can also warn your doctor for probable eye related health problems that can affect color vision.
Retinoscopy
Another part of the general eye exam is retinoscopy. Your doctor may do this procedure in the earlier part of the exam to attain a ballpark prescription for you. In this exam, the doctor dims the light and he will ask you to fix your gaze on a big target (usually the top letter on the Snellen chart). As you look at this letter, your doctor will then shine a light at your eyes and flip lenses in the machine, called a phoropter, in front of you.
Your doctor can identify your prescription depending on the way light reflections off your eye. This test can be very useful with children and elderly persons who cannot easily answer questions the doctor asks. Retinoscopy is a process that requires a lot of knowledge and experience from the doctor. That's why many doctors have now stepped over to using autorefractors.
Autorefactors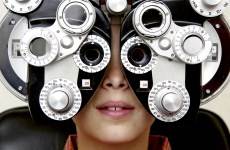 A phoropter is used to obtain your exact eyeglass prescription.
If you want to have your prescription determined immediately, it will be done by using an autorefractor. During this test, the doctor will ask you to rest your chin in order to stabilize your head while you look at a pinpoint of light. Just like manual refraction, an autorefractor reveals the lens power needed to correctly converge light on you retina. Autorefractors are very accurate these days, and especially useful in assessing younger children who move a lot and cannot appropriately communicate with the doctor.
According to studies, autorefractors are very precise and save a lot of time. The process takes less than a minute, which is significantly shorter than manual processes.
Refraction
Used for determining your exact eyeglass prescription, refraction is the most important part of your eye exam.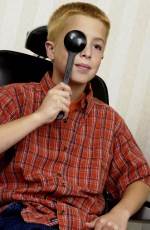 Eye teaming is evaluated with the cover test.
You will be asked to take a seat, and the doctor will place a very complex looking instrument in front of you, called a phoropter. Using the phoropter, the doctor will present you with two lens choices and ask you to pick the clearer of the two for your other eye. The doctor will continue to make you choose the clearer of your lens choices until he or she has fine tuned your prescription.
Technology these days has also introduced automatic phoropters, which are controlled by a computer. Often, these are pre-set to the prescription suggested by the autorefraction exam.
Refraction tests will determine your degree of nearsightedness or farsightedness. It will also allow the doctor to diagnose you if you have astigmatism and/or presbyopia.
Cover Tests
One of the most common and simplest tests to check eye teaming is the cover test. During this test, the doctor will ask you to keep your gaze across the room and look at a small object. The doctor will then ask you to alternately cover each of your eyes while staring at the target object. While doing this, the doctor will evaluate if the uncovered eye moves to the target object, which may indicate a condition called strabismus or a slight problem in binocular vision that can cause lazy eye or amblyopia. The test is done again close up.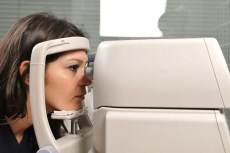 Your doctor can check for glaucoma by using a tonometer.
Test for Glaucoma
There are various tests to scan for glaucoma, all of which are designed to determine internal eye pressure. One of the most common of these is a non-contact tonometry (NCT) exam using a tonometer. You place your chin on brace of the machine, and have to gaze at the light in the machine. The doctor then puffs a small burst of air on your open eye. This test is totally painless. The machine analyzes your eye's reaction to the puff of air, and determines intraocular pressure (IOP). If you have high IOP, you may have or be at risk for glaucoma.
Pupil Dilation
In order to examine the inside of your eyes, pupil dilation will be needed. The doctor will first put numbing drops in your eyes, followed by the dilating drops. These will have to sit for 20 to 30 minutes. Once the drops have done their job, you will be much more sensitive to light, and have trouble focusing on objects up close. This is because your pupils are letting in much more light. The effects can last several hours.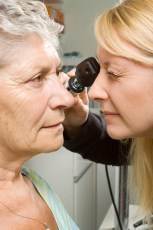 After your pupils are dilated, your doctor will check the inside of your eye.
When your pupils are fully dilated, the doctor will take a look at the inside of your eye with a variety of special tools. Because this test is the best way to evaluate the health of your eyes on this inside, it is extremely important if you have any risk factors for eye disease.
Detailed and Internal Eye Review
The doctor uses a slit-lamp to test the health of the eyes. This device, also known as a biomicroscope, helps the doctor obtain a fully magnified view of the eye's structure for eye health evaluation, and can detect signs of disease or infection.
The doctor initially examines your front eye's structure including your conjunctiva, cornea, iris, and lids. With high powered lenses, the doctor then looks inside your eyes giving particular attention to parts such as optic nerves, the retina, macula, and many others. Some well equipped practices may even use an expensive fundus camera which allows the taking of pictures, which can be compared over the years to detect possible changes in the eye structure. These cameras also provide a nice way to engage the patient in the eye review.
Using the slit lamp examination, numerous eye diseases and conditions can be identified including macular degeneration, cataracts, diabetic retinopathy, and corneal ulcers.
Other Tests
There are many other tests involved in a comprehensive eye exam. The exams stated above are just some of the most common tests in a standard general eye exam for glasses. However, there are more specialized eye exams which your doctor can recommend, especially if you're also being measured for contact lenses. Your doctor can give you referrals to more specialized units if the need arises.