20/20 Vision
Video: 20/20 vision explained.
Most everyone has heard the expression 20/20 vision before, but few people know what it means. Contrary to popular belief, the numbers do not correspond to left/right eye values. Whether or not your vision is 20/20 is determined by tests using the eye chart.
The eye chart is either a Snellen chart or a so-called "tumbling E chart". The charts have different letters, or in the case of the "tumbling E chart" the E's all face different ways, that gradually get smaller row by row. Research has proven that neither chart is more effective than the other, so which one is used in your eye doctor's office is entirely a matter of personal preference. These charts are generally placed 20 feet in front of you, although some doctor's offices may use mirrors to make the image appear 20 feet away if the room is not large enough.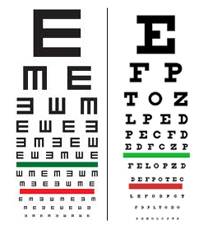 Left: Tumbling E chart. Right: Snellen chart.
The rows on the chart gradually get smaller, and this decrease is associated with a decrease in distance. For example, if you can only see the top letter clearly, your vision is 20/200. This means that at 20 feet you can see what most people can see from 200 feet away. If you have 20/200 vision even while using glasses or contact lenses, you are "legally blind" by U.S. standards. If you can see the first, second and third row clearly, but have trouble with the fourth, you have 20/50 vision; you can see at 20 feet what most people with normal or corrected vision can see at 50 feet away. Therefore, having 20/20 vision simply means you can see at 20 feet what most other people can also see at 20 feet away. In order to accomplish this, you have to be able to read the line fourth from the bottom. In the United States, your vision must be corrected to at least 20/40 in order to obtain a driver's license.
Remember that the eye charts are only part of a complete eye exam, since they only measure the sharpness of your vision over distances, also known as visual acuity. In order to get a proper prescription, you have to complete a full eye exam.