Glaucoma
Glaucoma is a broad name for eye disorders that are caused by an excessive build up of intraocular pressure (IOP), which is pressure within the eyeball. This pressure can damage the optic nerve in the eye; the nerve that transmits all your visual stimulation to the brain. If this nerve is damaged, vision loss will occur. The first part of your vision to be affected by glaucoma is your peripheral vision. If glaucoma is further untreated, you may lose your vision completely.
Symptoms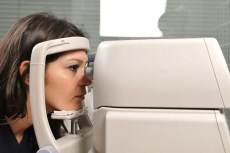 During an eye exam, a tonometer is used to measure intraocular pressure (IOP).
Most types of glaucoma have no symptoms that warn the sufferer of the onset and often glaucoma is detected after the optic nerve has already been irreparably damaged. Because of this, glaucoma has become the second leading cause of blindness (number one is diabetes).
Prevention and Diagnosis
The only way to catch glaucoma is to schedule regular eye exams. During the exam, your doctor or optometrist will use a tonometer to check your IOP, using either a small probe or a puff of air. Ideally, your IOP should be below 21mmHg (millimeters of mercury), and if your IOP is over 30mmHg you are high risk for developing glaucoma. If your IOP is very high, it means there is too much fluid in your eye; either the eye is producing too much, or your eye may not be draining properly.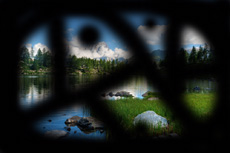 If not caught early, glaucoma can destroy your vision.
During the exam your doctor will also do some visual field testing, which is done by looking into a machine and clicking a button when something appears in your peripheral vision. This test may be repeated on a regular basis if your IOP is high to make sure you aren't developing blind spots.
A gionoscopy, to make sure the aqueous humor can drain freely, may also be performed. This procedure uses special lenses with a biomicroscope to make the eye's internal structure visible to your doctor. He or she will check the drainage angle inside the eye, which controls the flow of the aqueous humor and affects intraocular pressure.
Treatment
Depending on the severity, medication, surgery or lasers are all options for treatment. Remember that if your doctor prescribes eye drops to help lower your IOP, you need to take them as prescribed on a strict schedule. One of the main reasons that glaucoma causes blindness is because many people do not take their eye drops as prescribed, because glaucoma tends to be painless.