Diabetic Retinopathy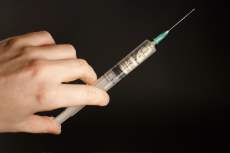 Diabetics have to inject insulin into their body in order to regulate blood sugar.
Diabetic retinopathy is caused by the disease diabetes. Diabetes is a chronic disease where there are high levels of sugar (glucose) present in your blood. Insulin helps your body regulate blood sugar by moving glucose into cells, where it is then stored until it is needed for energy. If your body does not properly make or use insulin, the glucose is not able to be stored for energy, causing a spike in blood sugar called hyperglycemia. There are two types of diabetes; type 1 and type 2. Type 1 is most commonly found in children, adolescents and/or young adults. Type 2 is the most common type, and tends to be found in overweight adults. Diabetic retinopathy happens when diabetes causes damage to the retina.
Causes
Diabetic retinopathy is caused by damage to the bloodvessels in the retina, which is the tissue that receives and transfers the images that the eye receives into nerve impulses that are transported to the brain via the optic nerve.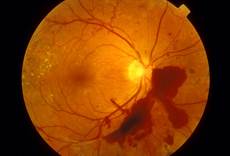 Diabetic retinopathy is characterized by abnormal blood vessel growth in the retina.
Retinopathy is the number one cause of blindness is work-aged Americans. Your chances of getting it are increased if you have long-term severe diabetes. If your diabetes is poorly controlled, chances are higher that retinopathy will occur earlier and more aggressively.
According to the Centers for Disease Control (CDC), every year between 12,000 and 24,000 people go blind because of diabetic retinopathy.
Symptoms
Like most eye diseases, retinopathy has virtually no symptoms until damage to the retina is extensive. Symptoms may include:
Trouble with night vision
Floaters (tiny spots drifting across the eye)
Blurry vision
Vision loss
Shadows or blind spots
Again, most people don't have symptoms until the damage in your eyes is severe, which is why you should have regular eye exams if you have diabetes.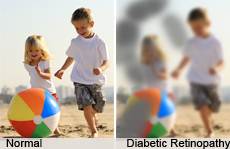 A person with diabetic retinopathy may have blurry vision with blind spots.
Treatment
Although treatments are available to stop the disease from progressing, these cannot reverse damage that has already occurred.
Photocoagulation is the process of burning small holes in the areas of the retina where there is abnormal bleeding. This is done through a laser eye surgery.
Vitrectomy is a procedure used to treat retinal detachment, or can be used to help with hemorrhaging in the eye.
Drugs that can be taken to help prevent abnormal blood vessels from growing in your eyes are still being investigated.
If you have been diagnosed with diabetic retinopathy, make sure you regularly see an eye doctor to help you monitor its progression, especially because this disease can easily end up in blindness. If you have any symptoms, tell your doctor so that treatment to help preserve your vision can be started.